Erosion of nutrient-rich black soil threatens China's grain production. Li Jing reports from Heilongjiang.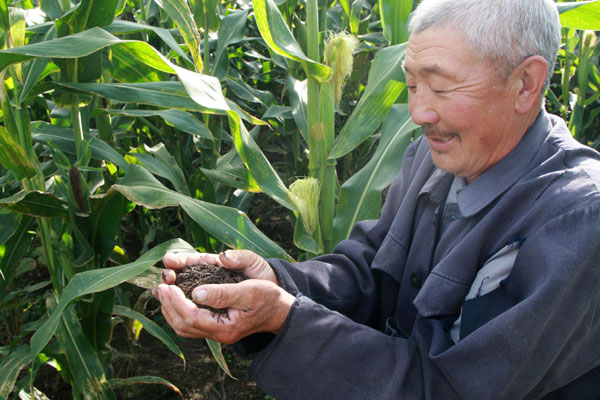 Farmer Hu Jinghe cherishes the highly productive black soil of Binxian county, Heilongjiang province, as he awaits a bumper corn harvest in this file photo taken in September. [Feng Yongbin / China Daily]
Farmer Hu Jinghe has high hopes for his harvest this week. After a year of moderate temperatures and timely rainfall, his cornfields are now a lush forest of green stalks.
"It's the black soil," said the 62-year-old in Binxian county, Heilongjiang province. "It provides really good conditions for growing crops."
For many like Hu, black soil - or chernozem, as it is also known - is a gift of nature. Formed in cool, temperate zones with meadow-grassland vegetation, farmers say the soil is so rich in nutritional properties "you could even grow chopsticks in it".
Yet, Hu fears such good harvests will disappear in the coming decades as the once-bountiful land continues to lose its luster.
Official monitoring data shows rainfall is washing away up to 10 millimeters of black soil every year in some areas, while in others, layers are already down to about 40 centimeters, half the depth recorded at the start of agricultural reclamation in the 1950s. If such erosion continues, black soil could vanish within the next 50 years.
The worrying trend has alarmed experts nationwide, not least because black soil farms - mostly in the northeast provinces of Heilongjiang, Jilin and Liaoning - produce about one-sixth of China's grain, even though the long, harsh winters prevent farmers from harvesting more than once a year.
Covering an area of 1.03 million square kilometers, the black soil belt is the third largest in the world after Russia and North America.
Beside Erlong Mountain in Binxian county, 57-year-old Cui Xuefu grazes his cattle in a cornfield near an erosion gully more than 50 meters long.
Despite several check dams - small stone barriers placed on slopes - have been built in the huge crack to slow down the erosion, the crevice is already more than 1 meter wide and about 2 meters deep and expands every time there is heavy rain.
"It used to be farmland, just like the surrounding cornfields" said Cui. "The gully started as just a small crease on the hillside about two decades ago but has gradually grown as rain has flushed away the surface layer of earth."
More than 16,000 erosion gullies have opened up around Heilongjiang, leading to a loss of 933 square kilometers in arable land, according to the province's Soil and Water Conservation Research Institute.
Binxian county, where more than 80 percent of farmland is on an incline of 3 degrees or more, is one of the areas worst affected. About 75 percent of its 3,860-square-kilometer territory suffers soil erosion, with 12,058 gullies already reported by the county's water conservation office.
As irrigation here is still very much dependent on rainfall, farmers make ridges along slopes to use rainwater to irrigate their crops. However, this practice inadvertently removes the topsoil.
Experts say that the unique land structure in the black soil region means once the top layer is gone, the ground is no longer suitable for cultivating crops.
"We've seen a dramatic loss of arable land (because of this)," said Zhang Runru, director of water conservation for Binxian county's water bureau. "It's a serious problem we're facing."
Black soil gradually accumulates over hundreds of years as a result of slowly decaying organic matter. Yet, below that is usually stiff and sticky yellow earth that is impossible for plants, especially crops, to take root in.
Fertilizer frenzy
Close to the gully where Cui grazes his cattle is a small patch of land already so barren that it cannot be farmed anymore. A smattering of cornstalks covers the area, which is now largely sand and rocks.
Related readings:


 Draft aims to protect country from soil erosion


 China mulls law amendment to protect soil, water


 China to spend $30b more on afforestation by 2021


 Official warns of soil erosion in infrastructure construction
"All the money and effort we were putting in - furrowing the land, sowing, paying for chemical fertilizer and labor - we weren't getting back from the production," said Cui. "So we just stopped working on it."
Researchers discovered that when the thickness of black soil is reduced to about 20 or 30 cm (the average depth is 50 cm), the content of organic matter in the soil falls 30 to 50 percent.
About 15 kilograms of nitrogen and phosphorus and about 28 kg of potassium- essential ingredients for growing crops - are lost from each mu (a Chinese measurement equivalent to 0.06 hectare) of farmland every year due to soil erosion.
As a result, annual grain production is potentially reduced by 25 to 40 kg per mu.
Cui said that, when he was young, the natural fertility of the land in Northeast China was strong enough to support the crops. During the past two decades, though, there has been an increasing reliance on chemical fertilizers.
Despite warnings from experts that the overuse of chemicals worsens the degradation of black soils, the farmer admitted he and the fellow villagers had recently "doubled the use of chemical fertilizers to 50 kg per mu".
In the old days, households would compost animal manure and wasted stalks, which restored some of the soils nutrition. "But after the introduction of mechanized farming and chemical fertilizers, farmers became reluctant to spend as much effort as before," said Zhang in the water conservation office. "It's really a pity."