Government scholarships available to finance studies
Beijing - Self-funding foreign students are set to become the largest overseas group in China, as the country plans to attract 500,000 of them in 2020, a senior official of the Ministry of Education (MOE) said on Monday.
The ministry is due to unveil a comprehensive document on Tuesday to encourage more overseas students to study in China.
Related readings:


 More expat students to study in China


 China expands scholarships to foreign students


 East China province offers scholarship to foreign students


 First week campus life in China
"It is an attempt to implement China's 10-year national education outline and an important part of the county's diplomatic work to show Chinese culture to the global community," said Zhang Xiuqin, director-general of the ministry's department of international cooperation and exchange.
The government published the National Outline for Medium and Long-Term Education Reform and Development (2010-2020) on July 29, which included expanding international cooperation and exchanges in higher education.
The number of international students in China has risen dramatically, hitting a record high last year of 240,000, according to statistics released by the MOE on Monday.
The students were from 190 countries and regions around the world, which is a stark contrast to 60 years ago, when China had fewer than 20 international students from three countries in Eastern Europe, Zhang said.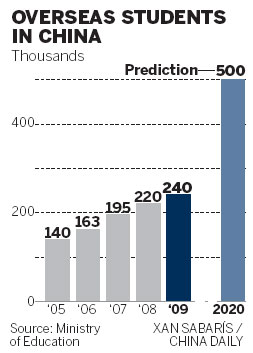 "The country's booming economic development, stable social environment and cultural charm have contributed to the increasing number of international students, of which 93 percent are self-funding this year," Zhang said.
Mutual recognition of academic degrees between the Chinese mainland and 34 countries and regions throughout the world has also helped promote job opportunities for overseas students, according to the MOE.
"Though the majority of the almost 240,000 foreign students last year was still from Asia, the number of students from western countries also increased," Zhang said.
The Chinese central government provided 800 million yuan ($117 million) in scholarships to international students this year and the provincial governments offered about 110 million yuan in scholarships, according to Zhang.
Countries such as Thailand, Singapore, Pakistan, Tanzania, Rwanda, Saudi Arabia and Norway are encouraging students to study in China under government scholarship programs.
"I became interested in Peking Opera after traveling around the country and it has led me to stay in China for a year and a half," Aurora Foss, a Norwegian student, told China Daily on Monday.
The Norwegian government finances her studies at Peking University, where she is learning Chinese.
Figures from the MOE show that the most popular universities in China for foreign students are the Beijing Language and Culture University, Peking University, Fudan University, Tsinghua University and the University of International Business and Economics.
Beijing, Shanghai and Tianjin attract the largest number of foreign students, according to the MOE.
The education ministry also said South Korea, the United States and Japan are the top three countries for sending students to study in China this year.
Chinese universities have increasingly begun to promote diversity on campus by teaching courses in English.
"We have 407 foreign postgraduates this year in 12 departments and all the courses are taught in English," said Wu Yunxin, chief of the international cooperation and exchange department at Tsinghua University.
Cang Wei contributed to this story.