Prince Joachim of Denmark was at Tsinghua University in Beijing on Saturday to celebrate Danish and Chinese bicycling culture and encourage students at the campus to keep riding bikes during the Back on Bike campaign.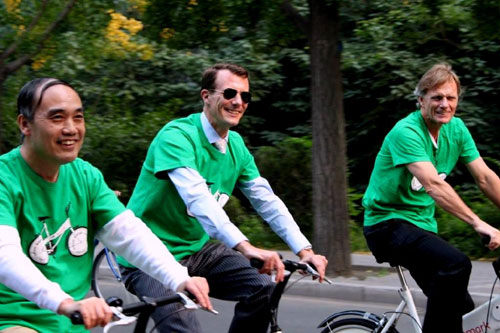 Yuan Si (L), vice president of Tsinghua University, Danish Prince Joachim and Danish Ambassador Friis Arne Petersen ride through Tsinghua University during the Back on Bike campaign with more than 70 Tsinghua students in Beijing, Sept 25, 2010. [Cheng Anqi/chinadaily.com.cn] 
The prince took a 20-minute bike ride around the campus, and he experienced how Chinese students live and transport themselves from point A to point B.
"I have noticed that Tsinghua University has a strong cycling culture," the prince said. "I was so glad to see hundreds of bicycles parked in front of all the buildings and young students getting easily from A to B on the bike. Just like parents to their children, you can pass on this tradition to the next generation of students at Tsinghua, through your good example."
During the event, Prince Joachim talked to cyclists and described the Danish life style of biking.
In Denmark, biking is a deeply rooted habit formed in childhood.
It appeals to everyone: young students, pensioners, busy career-driven men and women -- and members of parliament administrators are seen riding their bikes to work. In Denmark, cycling is a natural activity for people from all walks of life, including the royal family.
The bicycle is a symbol of Denmark and Copenhagen, and it's become a symbol of sustainability everywhere.
"Denmark and China are very different countries, but we share a long history of bike riding, and this is one of the reasons why the Danish Pavilion at the Shanghai Expo focuses on bicycles," the prince said.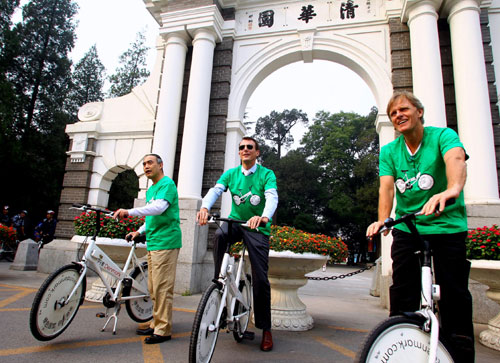 Danish Prince Joachim (C), accompanied by Yuan Si, vice president of Tsinghua University, and Danish Ambassador Friis Arne Petersen, gets ready for the Back on Bike campaign with more than 70 students at Tsinghua University, Beijing, Sept 25, 2010. [Cheng Anqi/chinadaily.com.cn]