Mobile cinemas still bringing screen magic to the rural masses. Hu Yongqi reports from Guizhou. (Click for Slideshow)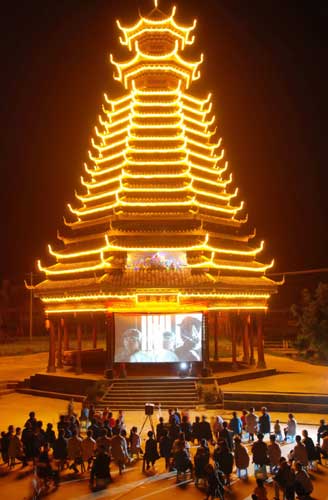 Villagers watch a movie on Sept 5 this year at a mobile cinema set up at Dongjiao Primary School in the southeast of Guizhou province, home to many ethic Miao and Dong people. [Photo by Chen Peiliang / For China Daily]
As the film projector burst into life and the screen filled with color, a hush fell over the crowd. The only sounds breaking the silence came from the giggling children and panting dogs as they played between the aisles.
Welcome to China's mobile countryside cinema, where seats are free as long as you bring them from home.
Unlike the ubiquitous multi-screen malls in large towns and cities, movie shows in rural areas are major social events that have been entertaining entire villages for decades.
Yet, for all the onscreen heroes and villains, the real stars are the dedicated projectionists behind this tradition, many of whom regularly cross hazardous mountains and rivers to reach remote audiences.
Xie Guoqing has been screening films in 24 villages in Qiandongnan Miao and Dong prefecture, Guizhou province, for about 30 years.
When China Daily caught up with the 50-year-old this month, he was setting up his mobile cinema on the playground at Dongjiao Primary School in time for an 8:30 pm showing.
"It takes about half an hour to get ready," he said, as he helped fellow projectionist Lin Shunquan fix a 50-kg digital projector into position.
They are among 280 mobile cinemas organized by the China Film Group that travel around the prefecture hosting free movies. Many of the projectionists have been doing the job for more than 10 years.
"We usually contact village heads well in advance so people know we're coming and we get a crowd," said Xie. In Dongjiao, he was not disappointed.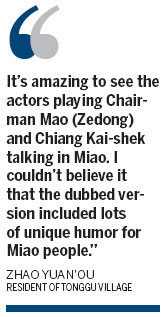 Villagers were already starting to gather in the playground an hour early - mostly children and the elderly at first as the majority of farmers were still returning from the fields. By the opening credits of the first film, more than 150 people dressed in traditional ethnic Dong clothing were crowded in front of the large, white screen.
It was 1 am when the second movie finished and, although the villagers headed straight to bed, Xie and Lin had to pack up the equipment for arguably the most difficult part of their job: Returning home in the dark.
Roads in this impoverished region are far from perfect and some villages are only accessible on horseback.
"One village takes about two, three hours to walk to and it's very dangerous when we make the journey back in the middle of the night," said Xie. "After one screening there, it started to rain really heavily, which made carrying the equipment back even more treacherous."
Projectionists receive subsidies from the central and provincial governments for each screening and, in coastal provinces like Guangdong and Fujian, some can earn about 1,200 yuan ($178) a month.
Xie made 13,000 yuan after showing 200 movies last year. However, 3,000 yuan had to be paid to the State Administration of Radio, Film and Television (SARFT) for rental of the digital projector. "I earn less money than if I worked in a factory in Guangdong but I think screening films is a more stable job," said Lin, who worked on 190 showings in 2009.