Voice actors are not just unseen stars, they are also working hard to teach China English. Tiffany Tan listens to their stories.
What super power does a person need to transform himself at the snap of a finger from a teenager to a senior citizen? None, just a talent for voice acting, a profession that's helping China become fluent in English.
Every year, millions of Chinese students take standardized English listening tests to get into colleges and universities here and overseas.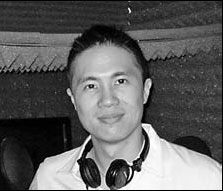 Kris Chung is often recognized as "the voice of the official test". Sandy Cheng / for China Daily
And dozens of foreign voice actors in major cities like Beijing and Shanghai try to keep up with demand by recording mountains of study materials and practice tests. A chosen few get to voice the government-administered tests.
Kris Chung, a 34-year-old Chinese-American from Las Vegas, is among the privileged.
In the past four of his eight years in the business, he has been the voice behind some of the Chinese mainland's most important English listening tests.
His voice has been heard by at least 7.5 million test takers a year, says Zhang Wei, technical manager of Beijing Global Voice recording studio.
"Because of the tests, I was able to increase my work base and also my fees over the years," Chung says in a phone interview from New York City, where he now works after a decade spent in Shanghai and Beijing.
"It's flattering to be recognized for that, and it's usually when I walk into a studio and people know me as the voice of the official test. I didn't know that was such a big deal until after the first year I did it."
From his in-home studio in the Big Apple where he moved last year to find more theater work, Chung continues to record material for China-based clients, including ads for companies like Lenovo.
He plans to keep returning to China twice a year to work on new versions of the standardized tests as well as to do commercials and educational cartoons.
Such longevity for a foreigner in the Chinese voice-over industry is not an everyday occurrence - even though artists can get as much as 600 yuan ($88) an hour for recording solo and 300 yuan for working with a dialogue partner.
One reason for the high turnover is the irregularity of work and short-term contracts. What is usually a busy summer has been uneventful this year, say numerous voice actors in the capital, because the amount of work has decreased since the 2008 Beijing Olympics.
"But you never know when you'll suddenly get a call from a studio to show up the following day," says Tony, a Canadian in his early 30s, who requested his full name not be published.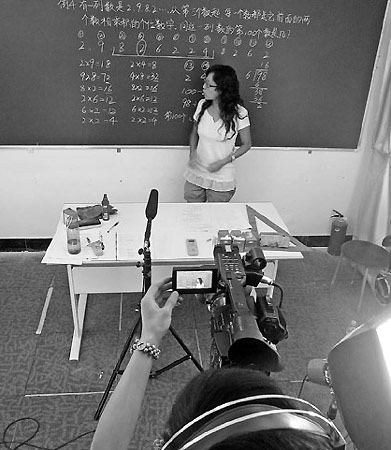 Voice-over talents breathe life into cartoon characters, public announcements and English lessons for a multitude of Chinese students. Tiffany Tan / China Daily
He has been interviewing for a full-time public relations job and saves money on a cab ride by taking the subway because he has no recording work lined up.
Even so, on "crazy" weeks he earns as much as 10,000 yuan.
Voice-over artists typically seek out novel and creative challenges. But the majority of projects are producing educational materials, which can get tedious.
"Sometimes I'll see the same script at different studios but I don't think they're from the same (publishing) company," says Apropros (who has just the one name), 26, a native of Berkeley, California who performs on an educational program for Beijing TV in addition to doing voice-over work for the past four years.
When asked about their ideal project, almost every one described a "creative" job: doing voices for cartoon characters, singing or providing narration for a film.
Unfortunately, such offers do not come along often and when they do, competition is fierce.
Although educational recording may get boring, no one says they're easy to do.
Some of the most difficult recordings in the genre are for beginners or children, because the artist has to speak so slowly.
This is the type of material that Zhang of Beijing Global Voice recording studio says he uses to audition voice actors. Slowing down to half the normal speech rate while maintaining the right rhythm and tone is not something everyone can do, he says.
Studios also favor artists who make minimal errors as clients pay by the hour and obviously want to get the most for their money.
Despite the growing number of native English speakers on the mainland, the right talent is hard to find. "You'll probably find one in 10, or one in 20 people maybe even one in 30," says Zhang, adding the desired English accent on the mainland has shifted in recent years from British to American English.
Even though there is less work for voice-over artists after the Beijing Games, Zhang says studios are always on the lookout for fresh talent and this has created a more competitive atmosphere.
"Of course we know a lot of people, or are introduced to them by friends ... I've auditioned more than 100 foreigners, but really few can meet the requirements."
Those who do, however, can take heart from the expanding new frontiers in digital, hand-held devices.
At GLR Collection Software's makeshift studios on Xueyuan Road, foreign and Chinese talents are busy recording teaching videos that sell to device manufacturers in Beijing, Shanghai, Shenzhen.
"Let me know if you have a voice actor to recommend," says GLR's general manager Wang Yongsheng, a statement later echoed by Zhang.
Voice actors may not have super powers but they do possess a skill that is not bestowed on every mortal.