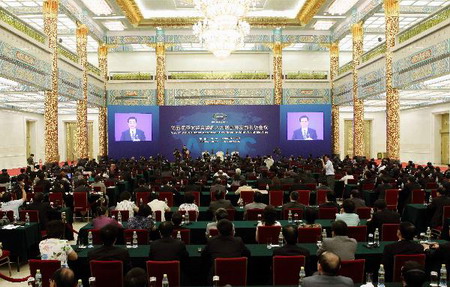 Chinese President Hu Jintao addresses the opening ceremony of the fifth APEC Human Resources Development Ministerial Meeting in Beijing, capital of China, Sept. 16, 2010. [Xinhua]
BEIJING - Member economies of the Asia-Pacific Economic Cooperation (APEC) released a joint ministerial statement on Friday, warning against lingering unemployment as they continue to reel from the global financial crisis.
"We are conscious that economic recovery is uneven and fragile and that, across our economies, many labor-market concerns remain, such as jobless growth, persistent unemployment and underemployment, increasing numbers of discouraged workers and widespread informal employment," says the statement.
"APEC economies also face long-term challenges such as aging population and increasing demand for a flexible and adaptable skilled workforce."
Related readings:


 Chinese President attends APEC human resources meeting


 HK official to attend APEC meeting in Japan


 APEC Special: Fuzhou APEC forum: Low carbon, high-tech


 APEC members step up efforts on integration
The member economies also vowed to address both short-term and long-term labor-market challenges to achieve a sustained economic recovery and job-rich growth for the future.
The statement was issued at the two-day Fifth APEC Human Resources Development Ministerial Meeting, which ended on Friday.
APEC members affirmed their commitment to promote free and open trade and investment and to oppose all forms of protectionism, in order to realize economic growth and job creation, the statement said.
As overarching priorities, APEC economies will strive to create more and better jobs and enhance education and training.
"We are ready to share and learn from each other's experiences and implement policies that are best suited to our individual economic circumstances," the statement says.
The statement also highlighted the importance of employment-oriented macro-economic policies to job-rich, inclusive and sustainable recovery and growth.
All members will continue to improve social safety and reinforce social protection and employment assistance for vulnerable groups, it says.
The joint statement will be submitted to the 18th APEC Economic Leaders Meeting to be held in Japan in November.
Yin Weimin, minister of human resources and social security, said on Thursday that an estimated 22 million jobs have been created in China by the government's 4-trillion-yuan ($595 billion) stimulus package over the last two years.
But the country is facing new pressures in matching its rapidly expanding labor pool with its changing economy, Yin said at the opening session of the meeting.
The Chinese government also provided favorable policies and subsidized some 1.6 million enterprises last year to successfully maintain 60 million jobs, Yin said.
Some 21 million urban and rural laborers enjoyed government-subsidized skill training last year, Yin said.
A report on China's human resources issued by the State Council Information Office last Friday said China had a labor force of more than 1 billion people, 112 million more than in 2000 and almost 780 million people were employed.
Sandra Polaski, deputy undersecretary for international affairs at the US Department of Labor, told China Daily on Friday the long-standing challenge for APEC economies is that the employment situation was aggravated by the financial crisis.
"In the United States, we are doing a lot of things to improve the situation. China is fortunate that job creation has resumed vigorously. But I think, by cooperating together, we can move forward toward a more balanced global economy," she said.
Poonsak Pramong, a senior official from the Thai Ministry of Labor, said the joint statement provided APEC members with a framework to coordinate and cooperate.
He said he quite agreed that free trade and investment could help to create jobs.
"We hope more Chinese investment will come to Thailand to help create more jobs for Thai people," he said.