GUANGZHOU - Health authorities in South China's Guangdong province have warned of a possible outbreak of dengue fever after a local city reported 11 cases of the disease last week.
Related readings:


 Dengue fever kills 30 in Vietnam provinces


 Stowaway mosquitoes threaten Galapagos wildlife


 Mosquito bites carry key vaccine for malaria


 Urban sprawl, bad sanitation spread dengue fever
Local health authorities in Guangzhou and other cities co-hosting the upcoming Asian Games, including Dongguan, Foshan and Shanwei, were asked to more closely monitor the disease, according to sources at the provincial health department.
"As the Asian Games approach, we should prevent the disease from spreading and provide a safe, healthy environment throughout the Games," said He Jianfeng, director of the research institute at the Guangdong provincial disease prevention and control center.
Dengue is a mosquito-borne infection that causes a severe flu-like illness that can develop into dengue hemorrhagic fever, which is potentially life-threatening.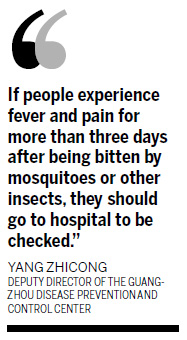 The peak season for dengue fever in the province is usually September and October, He said.
The Asian Games are scheduled to take place in Guangzhou, the provincial capital city, in November.
The warning was issued after 11 cases of dengue fever were reported last Friday in an urban village of Dongguan.
A local resident was diagnosed with the disease on July 22 after suffering from recurrent fever and pain following a trip to Singapore and Malaysia. Ten further cases were reported in the same neighborhood.
As of Thursday, six people had recovered from the disease, while the rest remained in hospital, sources at the Dongguan health bureau said.
In Guangzhou, six cases of dengue fever have been reported this year, according to Yang Zhicong, deputy director of the Guangzhou disease prevention and control center.
"They are all separate cases," said Yang, adding that no further cases had been reported in the city in September.
In the latest case, a resident in Baiyun district was diagnosed with the disease on Aug 17 after having a fever over several days. Local authorities conducted an inspection of 2,178 people who reside in the vicinity and found no further cases.
There have been no deaths from dengue fever in Guangzhou in recent years, Yang said.
"If people experience fever and pain for more than three days after being bitten by mosquitoes or other insects, they should go to hospital to be checked," Yang warned.
Health authorities in Guangzhou will work closely with their counterparts in other cities co-hosting the Games to monitor the disease, Yang said.
In a related development, two women died after recent bites from chigger mites in the neighboring city of Foshan, which triggered another public health scare, sources at the Foshan No 1 People's Hospital said on Thursday.
One of the victims, a 66-year-old woman, surnamed Fan, had a recurrent fever since Aug 27. She died on Sept 2.
Doctors later discovered she had been bitten by chigger mites and attributed the cause of her death to scrub typhus, an acute, infective disease that is transmitted by mites, predominantly in Asia. Public fear was aroused following her death and many locals said they were afraid to go to parks and other outside areas.
However, He said there is no need for panic and that patients would not die, provided they sought prompt medical treatment.