Reform a boon for patients, gloom for clinics. Hu Yinan reports from Anhui.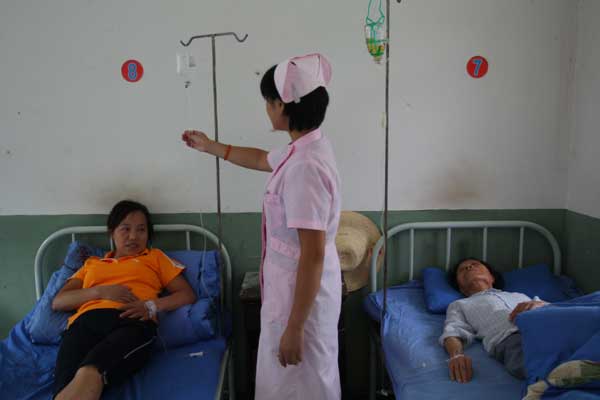 A nurse checks a patient's intravenous drip at Xincheng Community Health Center in the city of Huangshan, Anhui, on Aug 31. A full-scale reform of grassroots health services was rolled out across the province on Sept 1 following a pilot program that started in the spring of last year in 32 counties. Photos by Zhang Tao / China Daily
When farmer Wang Shunde visited his village medical clinic in eastern Anhui province with a stomachache, his doctor diagnosed him with acute enteritis, gave him an infusion and prescribed four drugs.
Ordinarily, the bill given to the 56-year-old as he left the clinic on Aug 31 would have made him feel worse than the swollen intestines he arrived with. However, as a resident of the impoverished Qianshan village in Shexian county, a pilot zone for rural medical reforms, he received a 10-percent discount on the drugs.
One day later, the price-cutting initiative was rolled out across the province, allowing 57 million people to benefit from efforts to radically restructure the profit-driven township and village medical institutions, the backbone of China's three-tiered healthcare system.
Anhui is the first province to start a full-scale reform of its grassroots health network since the spring of last year, when the central government unveiled plans to spend 850 billion yuan ($125 billion) to introduce an essential drug system and offer universal access to basic insurance.
"The purpose of the initiative is to abolish the existing system, which relies on health providers selling drugs to fill their financing gap," said Gao Kaiyan, director of Anhui's health bureau and the mastermind behind the reform. "It's the first such experiment in our country."
Following the collapse of community-funded healthcare for farmers in the early 1980s, market-oriented reforms helped privatize the sector.
Government spending fell from 36 percent of the total health expenditure in 1980 to 15 percent in 2002, according to figures from the Ministry of Health.
While government budgets for health institutions diminished, the liberalization of the pharmaceutical market drove up the prices of medicine considerably. Hospitals were able to sell drugs at a 20- to 30-percent markup over wholesale costs.
As a result, the amount being shouldered by individual patients soared from 21 percent in 1980 to 59 percent in 2000. In Anhui, the average inpatient charge in township health centers rose 251 percent between 2005 and 2009.
"For a long time now, 60 to 70 percent of grassroots health institutions run on the profits they make from medicine prescriptions," said Gao. "The more a physician prescribes, the higher their revenue. This results in irrational drug use, over-prescription of antibiotics, the corruption of health workers and high drug prices."
An industry veteran of almost three decades, Gao says his comprehensive reform is necessary to "break the system".
Since Jan 1 this year, Anhui has launched a series of bold measures involving 4,811 health clinics in 32 pilot counties, affecting more than 20 million people. The reform includes reinstalling a public-purpose grassroots health system by thoroughly reshuffling existing mechanisms to deal with administration, personnel, income distribution and pay.
The move has brought township and village clinics back under the umbrella of county health bureaus, which, together with finance and labor authorities, are responsible for approving personnel quotas, fixing budgets and evaluating work.