Storm chaser risks life to gather data for important forecasts
SHANGHAI - Bespectacled Zhao Bingke doesn't look like an adventurer.
Yet when a typhoon approaches China's shores and people hunker down, Zhao jumps into his 4-ton vehicle and heads into the center of the storm.
Zhao and his two other colleagues are storm chasers, who put their lives at risk to learn about the deadly phenomenon.
"We need to be there, right in the center of the typhoon. It is our mission," said Zhao, 46, leader of Typhoon Chaser, a three-member team established by the Shanghai Typhoon Institute of the China Meteorological Administration to collect real-time data about the internal structure of typhoons for research purposes.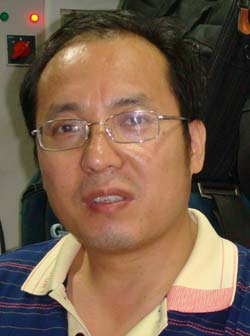 Zhao is the head of the Typhoon Chaser team with the Shanghai Typhoon Institute of the China Meteorological Administration. [Shi Peiqi / for China Daily]
"Typhoons are as destructive as they are dynamic. But we know little about what's behind its dynamics - how it picks up speed, changes its direction or dies down all of a sudden," Zhao said.
The lack of such data has long bothered weather forecasters and researchers in China and hampered their attempts to make accurate predictions and assessments of approaching typhoons.
China, with a long coastline, experiences the most typhoon strikes with an average of 9.3 typhoons a year.
In August 2005 alone, eight typhoons struck the country, five of them with wind speeds up to 138 km/h.
Typhoon Saomai, the strongest ever recorded on the Chinese mainland, hit the country's southeast coast in August 2006, leaving 193 dead and 10 missing.
Experts have been using satellites to observe the formation and external structure of typhoons.
"But data to map the internal structure of typhoons can only be gathered through observation on the ground," Zhao said. "Satellites are not so reliable because there are too many interruptions when it's so close to the ground."
To catch real-time data of barometric pressure, temperature and humidity in the center of a typhoon, Zhao said, you have to be in it.
For each mission, Zhao and his team prepare for days.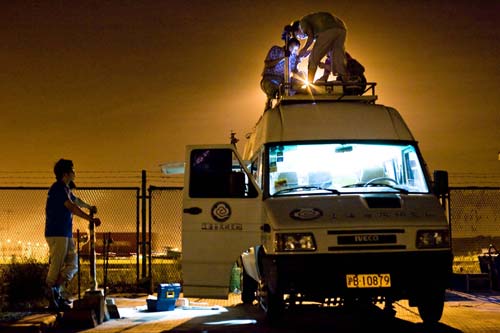 Zhao Bingke and his colleagues install equipment on a vehicle at Shanghai's Yangjiang Port on Aug 31 to prepare for chasing Typhoon Kompasu. [Yang Mei / for China Daily]
They drive an Iveco vehicle, weighed down with observation equipment including one to take "photos" of typhoons and a great number of balloons to carry global positioning systems (GPS) high into the sky to track the typhoon.
"The vehicle weighs more than four tons, three times heavier than a regular model," Zhao said. "It's safer to drive in the strong wind, even strong typhoons. But you still have to be a really good driver to handle it."
Since 2007, when the Typhoon Chaser team was founded, Zhao and his team have chased nearly 10 typhoons along the country's coast.
"Compared to other countries such as the United States, the Republic of Korea and Japan that started collecting data years ago, we have a lot to learn," Zhao said.
During their first mission to catch Typhoon Pabuk, they succeeded only in drenching themselves in rain. They mistimed their approach to the center of the typhoon.
Unlike looking at the stars, where positions can be accurately observed and predicted, finding the best position from which to observe a typhoon is difficult because the storms are "capricious".
"Real-time communication is very useful for us to determine where the correct position is," Zhao said. "So we keep close contact with the command center back in Shanghai consisting of experts and experienced forecasters."
Zhao still remembers the night when Typhoon Sepat approached in 2007.
The team drove to the seaside in Fujian province where the typhoon was predicted to land. Their fully equipped heavy vehicle, which they had tied to the ground with four iron cables, started to shake in the winds that hit 108 km/h.
"It was very dangerous. We were almost blown off the ground," Zhao said. "We joked that had it been (the much stronger) Typhoon Saomei, we would have been lifted up into the sky before its strong wind smashed us back to the ground."
One important part of their mission is to send off balloons with GPS-enhanced equipment up to 30 kms into the sky every three hours.
"It usually takes only a few minutes to fill up a 1.5-meter balloon," Zhao said. "But in a strong wind, it could take half an hour."
"It's very dangerous out there and we know it," Zhao said.
"But the more violent a typhoon, the more complicated it is, which means the higher research value it has if we collect data from it."