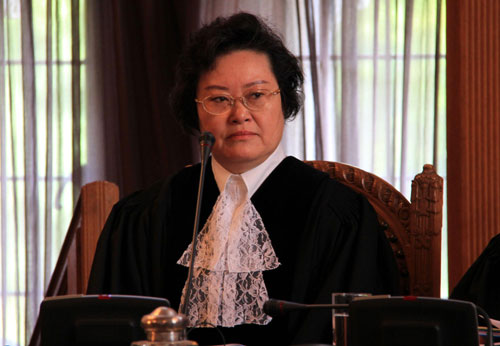 Xue Hanqin is sworn as a judge of the Hague-based International Court of Justice (ICJ) on Monday.  [Photo/Xinhua]
THE HAGUE - Xue Hanqin was sworn in Monday as a judge of the Hague-based International Court of Justice (ICJ), becoming the first Chinese woman to get the job.
Another female judge, Joan E. Donoghue from the United States, assumed office together with Xue.
"It is the first time in the court's history that two female judges will serve simultaneously," the ICJ said in a statement.
Almost all ICJ judges had been male with only one exception -- British Dame Rosalyn Higgins, who served on the court from 1995 to 2009.
Xue, a veteran Chinese diplomat and an expert of international law, was elected to the ICJ with all 15 votes in the Security Council and a majority of votes in the UN General Assembly in June. She is the third Chinese judge in the Court.
"More and more women take active part in the major international justice organizations, which marks the improvement of civilization," Xue told Xinhua.
Xue is no stranger to the Dutch city. She used to serve as Chinese ambassador in The Hague.
"What is remarkable about the two new judges is not just that they will bring down the average age of the members of the ICJ," Dr. Olivier Ribbelink, senior researcher at T.M.C. Asser Institute commented, "but also, strangely enough, that they are women."
"Although it may be too early to say, perhaps their nomination forebodes a new attitude towards the ICJ and international law," Ribbelink added.
Shortly after the swearing in ceremony, Xue and Donoghue joined their colleagues to start public hearings of a case concerning application of the International Convention on the Elimination of All Forms of Racial Discrimination between Georgia and Russia.
"More than a dozen cases are on trial now and all the judges have a lot of work to do," which shows that most governments attach more and more importance to the ICJ, said Xue, who turns 55 on Wednesday.
"This will benefit the development of international law and bring profound influence to the international society," she added.
Donoghue, a former legal adviser in the U.S. Department of State, was elected to the ICJ on Sept 9.
The ICJ, the principal judicial organ of the United Nations, has 15 judges who are each elected to a nine-year term of office and may be re-elected. In order to ensure a measure of continuity in the composition of the court, one third of the membership is renewed every three years.