Wu Tianzhu, owner of the captured boat, said his fl eet regularly fishes in waters off the Diaoyu Islands and admitted there is often friction with the Japanese authorities.
"They use large speakers to tell us to leave but we carry on fishing anyway," he said.
On May 25 this year, a fishing vessel from Taiwan province was in a collision with a Japanese patrol ship while transporting a statue of Mazu to one of the Diaoyu Islands.
Mazu is a sea goddess which is said to protect sailors and fishermen and is widely worshipped in Fujian, Taiwan and Guangdong provinces, as well as in other Southeast Asian countries.
Members of the coast guards attempted to board the boat carrying the statue but the captain refused. They were eventually forced to retreat 25 nautical miles from the islands.
The Minjinyu 5178 headed back out to sea at the weekend but Xu was not on it. He said he needs more time to rest.
"Working as a fisherman is tiring," he said. "All 14 men on the crew have to work for 30 hours straight and also be on constant alert for Japanese patrol boats."
Xu said he earns 200 yuan ($29) a day from fishing and explained that a captain like Zhan makes roughly three to four times that amount.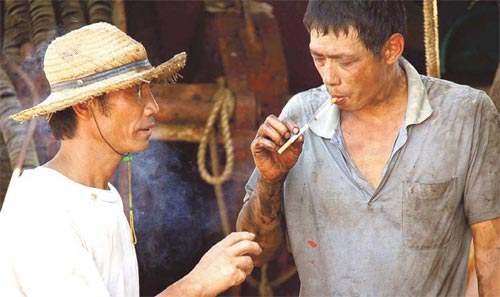 Two fishermen who have just returned from waters around the Diaoyu Islands take a break at Shenhu Harbor in Fujian province. [ZHU XINGXIN / CHINA DAILY]
Business as usual
Zhan's home in Ganghu is less than 300 meters from Shenhu Harbor. Of the 2,000 people who live there, 80 percent rely on fishing as their main source of income. Most others work at one of the town's frozen processing plants and printworks.
Almost 350 vessels are docked at the harbor, which produce 128,000 tons of fish every year. In 2007, its total output was 391 million yuan.
As the offshore fish are decreasing signifi cantly, the fishing season only runs from June 1 to Aug 1 to allow the fry a chance to breed and mature, said businesswoman Wu.
The sun was shining again on Saturday morning following the rainstorms brought by Typhoon Meranti and fishermen at Shenhu Harbor were loading up their boats to head back to their usual fishing spots off the Diaoyu Islands.
"About 70 to 80 trawlers leave for the islands from this harbor each week," said fishmonger Chen Ping as he supervised porters moving boxes of frozen fish from a boat to his refrigerated truck. "A vessel can bring back about 100,000 jin (50 tons). "
We pay 4 yuan per kilogram, aft er which the fish are packed and shipped to markets in Fujian, Guangdong and Zhejiang provinces," he said.
Chen, who is now in his 40s, used to own a 35-meter fishing trawler that could carry a 15-strong crew across to the Diaoyu Islands.
"The people here have been fishing (around the islands) for as long as I can remember," he said.
"A round trip took about three days and we would spend about four days fishing, which added up to an exhausting week. I'd rather stay on shore, even if it means making less money."
However, less money does not mean less work and Chen must visit dozens of boats to buy their haul. The only one missing from his checklist recently is the Minjinyu 5179.
"We feel sorry for Zhan. He is a good captain and we just think he has been unlucky," said the trader. "But one incident will not have much effect on our business. Everything is still the same here."
When asked why so many trawlers go to the Diaoyu Islands for fishing, the retired sea captain indignantly replied: "Do we need a reason to fish our own territory?"
China News Service contributed to this story.