XIAMEN - China will continue to attract large influxes of foreign investment in the next few years despite uncertainties in the global economic recovery, Commerce Minister Chen Deming said Tuesday.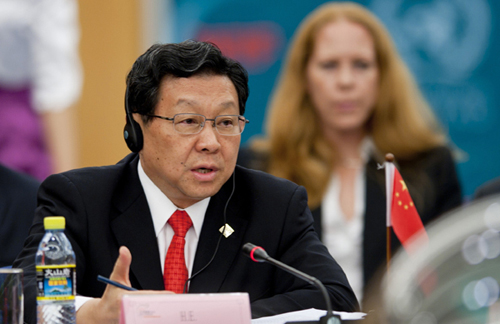 Chinese Minister of Commerce Chen Deming speaks during the ministerial round table of the 2nd World Investment Forum, in the coastal city of Xiamen, Fujian Province, Sept. 7, 2010. [Photo/Xinhua]
Although uncertainties lie in the process of the global economic recovery and the development trend of the world economy would, to some extent, affect foreign investment in China, the next few years will still be a high-tide period for foreign investment inflow into the country, Chen said Tuesday at a ministerial conference at the 2nd World Investment Forum (WIF) in Xiamen City in southeast China's Fujian Province.
"Currently, many countries and organizations have rated China as the most appealing destination for investment, which probably would not be changed for a few years," said the minister.
Foreign direct investment (FDI) this year is set to "surpass US$ 100 billion," compared to 90 billion dollars last year, an official with the ministry predicted on Sunday.
During the first seven months of this year, China's FDI increased 20.65 percent year on year to 58.35 billion dollars, according to the ministry' s latest statistics.
Meanwhile, some 14,459 foreign-invested companies were established in China in the first seven months, up 17.9 percent year on year.
However, Chen stressed that instead of the amount of investment, China should place more emphasis on the quality and structure of foreign investment.
In April, the State Council, China's cabinet, introduced a series of innovative measures to optimize foreign investment structures.
Related readings:


 Activating investment


 V.President Xi speeks at World Investment Forum 2010


 VP calls on Chinese firms to boost foreign investment


 China hosts int'l forum to bolster two-way investment

The measures included encouraging more foreign investment in high-end manufacturing industries, high-tech industries, modern services industries, new energy, and energy-savings and environmental protection industries.
With the help of such measures, foreign investment in industrial sectors with high technology and high added-value, as well as the service industry, would witness a boom, Chen predicted.
Also at Tuesday's conference, Chen mentioned that some countries are blocking investment deals in the name of national security, which, according to Chen, is a form of protectionism.
It would not help the development of global investment, but hurt these countries' employment and economic recoveries, he said.
China's outbound direct investment (ODI) rose 1.1 percent year on year to US$ 56.53 billion in 2009, according to MOC statistics released on Sunday. China was the fifth-largest source of foreign direct investment in the world last year.
By the end of 2009, Chinese enterprises had established 13,000 overseas companies in 177 countries, with combined assets topping US$ 1 trillion.
With the theme "Investment for Sustainable Development," the three-day forum, which is organized every two years by the United Nations Conference on Trade and Development (UNCTAD), will discuss the challenges and opportunities for global investment in a post-crisis economy.
The first WIF was held in Accra, Ghana in April 2008.