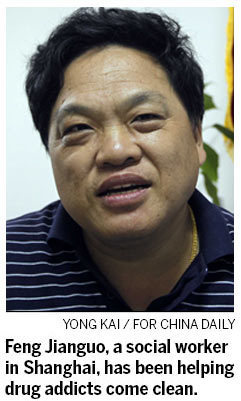 SHANGHAI - Feng Jianguo said he used to despise drug addicts as much as killers.
So no one is more surprised than the 53-year-old Shanghai native that within a few years he would become a close and trusted friend of about 100 drug addicts.
"Most drug addicts started taking drugs out of curiosity or with coaxing from bad influences," said Feng, who became one of the first 25 full-time social workers in Shanghai dedicated to helping drug addicts stay clean and find jobs after they get out of the rehabilitation centers.
"They are not bad people at all, only that they fell victim to drugs. To break free, they need help and it is up to us to extend our helping hands."
Over the past six years, Feng has helped more than 30 addicts get rid of their drug addictions and land jobs - people who otherwise would have had few chances in the labor market.
He keeps track of 65 of the registered 165 drug addicts in the Ouyang neighborhood of the city's Hongkou district.
He helps them secure job opportunities and ensures they do at least three urine tests a year. Those who pass 12 tests in a row in three years are removed from the monitoring list.
"It has always been a bittersweet experience," Feng said of his work over the past six years. "It's always heartbreaking to see how drugs ruin one's career, family and life; but it's as heartening to see a drug addict finally get clean and start anew."
Once an employee at a human resources department with a State-run enterprise, Feng had 27 years of experience in psychological coaching before he became a social worker, a profession that was rarely heard of until recently in the country.
Related readings:


 China solicits opinion to help drug addicts


 Relatives help drug addicts


 Addicts get leg up in their drug battle


 Young Net addicts on the rise
Feng still remembered the moment he came across the ad by the government-funded Shanghai Ziqiang Social Service Council for social workers in 2003 - when Shanghai first started to employ social workers.
As he read the job description, he thought to himself: "That's a job I've long dreamed of."
Feng failed the physical test during the first recruitment phase because of fatigue from taking care of his hospitalized father for nearly two straight months.
The next year the social work organization started a new round of recruitment.
Feng was a bit hesitant because this time the organization was recruiting social workers to help drug addicts.
"At that time, I kind of agreed with what most people say of drug addicts that they deserve no pity or assistance," Feng recalled.
Since then, his attitude toward drug addicts has changed. "As social outcasts, they typically don't believe anybody would help them without a reason," Feng said. "Most of the time they think we're police who are monitoring them, which we aren't. We have to explain it to them and it takes time."
Once Feng spent an entire week persuading an addict to open the door for him.
With time, patience, a listening ear and a willing heart to help, Feng has won the trust of one addict after another over the past six years.
Feng compiled a book in 2005 called Confession in Tears, which was based on real experiences of drug addicts he had helped.
"I hope society can be more tolerant toward the drug addicts who have come clean," Feng said. "Discrimination and indifference can only push them back to drugs."
Somehow, helping people fight their addiction to drugs has become his own addiction, Feng joked.
"Theoretically I work from 8:30 am to 5 pm, but actually I work overtime almost every day. If someone calls for help, you can't just say 'I'm off, please call tomorrow'," said Feng.
It is not an easy job, he said. Besides the long working hours, anti-drug social workers risk getting Hepatitis C as nearly 90 percent of drug addicts have the contagious disease, which they pick up by frequent injections with unclean syringes.
Moreover, hearing complaints from addicts day in and day out is also stressful, Feng said.
Feng, like most social workers in the city, gets a pittance of 3,000 yuan a month, 500 yuan less than the city's average in 2009.
"For most us, it is the passion and the meaning of the job that keeps us going," he said, adding that 21 of the city's first 25 anti-drug social workers remain.
"One thing we have come to a consensus about is that we anti-drug social workers shall serve as a beacon in their darkest moment of life."