BEIJING - The number of bribery cases involving government officials has increased by 13 percent since 2003, a senior anti-corruption official from the Supreme People's Procuratorate (SPP) said.
Prosecutors charged 9,476 governmental officials in nearly 9,000 bribery cases nationwide from January to June this year alone, Song Hansong, deputy-director of the SPP's anti-dereliction and infringement department, told China Daily in an exclusive interview.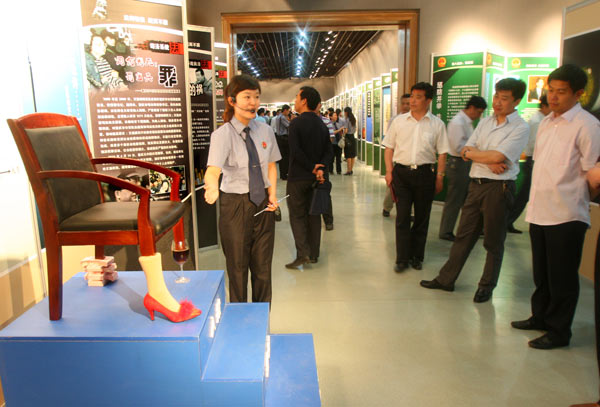 A guide points to a chair propped up by depictions of common methods of bribery: Sex, wining and dining, and cash. The chair was on display at an anti-corruption exhibition in Kaifeng, Henan province, in this file photo. [Bian Xuan / For China Daily]
Among the cases, 2,067 concerned the offer of bribes, in which 2,369 official suspects were involved. The number of cases increased 18.4 percent from the preceding year and the number of suspects involved rose 20.5 percent for the same period.
Related readings:


 Former officer sentenced in bribery case


 Ex-police officer sentenced in bribery case


 China probes judges for bribery over deadly mine blast


 Bribery being bred in grassroot elections
In 2009, 41,531 officials were charged for their involvement in 32,439 corruption and bribery cases. About 12,897 cases, or about 40 percent of them, were related to bribery, an increase from 12,471 in 2008, according to statistics from the anti-corruption department of the SPP.
In some of the bribery cases, millions and, at times, billions of yuan were involved and there was a significant increase in the number of senior officials implicated, Song said.
Officials from State-owned enterprises, major construction projects, financial and securities, administrative and law enforcement departments, as well as Party and government organizations, accounted for the majority of the suspects, Song said.
Paying for renovation costs, house purchases or abnormal accounts on houses and free trips were some of the ways in which officials were tempted to compromise themselves, along with cash offers, Song said.
Prosecution departments should pay special attention to duty-related crimes involving mass incidents and major work safety accidents, especially in areas like construction, real estate development, land management and mineral resource development, as well as protecting mafia-style gangs, he said.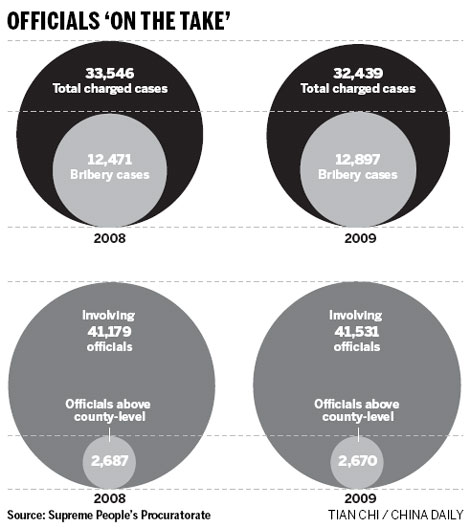 "Construction projects involve huge amounts of money and cover a wide range of areas. They have long approval procedures, which can easily lead to official corruption driven by huge economic interests," Song said.
In July 2009, Chen Tonghai, former chairman of China Petroleum & Chemical Corporation (Sinopec Corp), was charged with bribery and sentenced to death with a two-year reprieve.
Chen, 61, was convicted of illegally receiving 196 million yuan ($29 million) between 1999 and June 2007, when he abruptly resigned as chairman of Sinopec Corp. Chen helped others who sought to secure "illegal interests" in company operations, land transfers and contracts in return for bribes, according to the verdict from the Beijing No 2 Intermediate People's Court.
In another case, Liu Zhihua, former vice-mayor of Beijing, was sentenced to death with a two-year reprieve in August 2008 for receiving about 7 million yuan in bribes, according to the court verdict.
From 1999 to 2006, Liu served as the vice-mayor and head of the management committee of the Zhongguancun Science and Technology Park in the capital. During his tenure, he used his position to benefit his bribers in the areas of land exploitation, bank loans and assets integration, the verdict said.
Excessive bidding also remains the focus of corruption and bribery attempts in the construction sector, because relevant laws and regulations are not sound enough, Song said.
Those who offer bribes receive lighter punishments than those who receive them, Song said.
In an effort to tackle these challenges, in 2008 the SPP established a work plan for the prevention of corruption from 2008 to 2012, which introduced a blacklist for graft cases.
"The plan stipulates that, if any person or work unit is found to have offered bribes, they will be banned from entering the bidding market," Song said.
If the amount of money involved exceeds 10,000 yuan, he added, those found to have violated the plan will also be held criminally accountable and possibly receive a maximum sentence of life imprisonment.