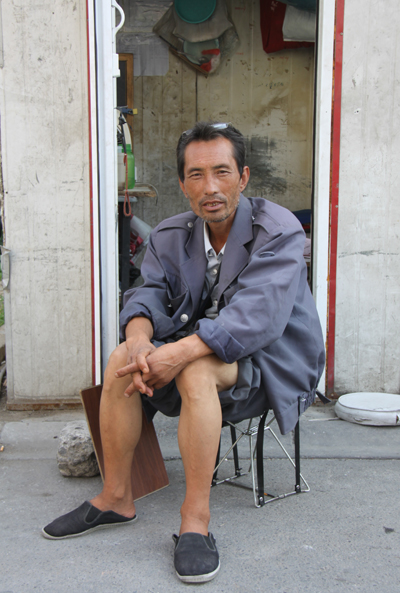 Du Fukui 
If not for the nation's tightening regulation on pollution, Du Fukui may have become a business leader in the paper production industry. But today, the 55-year-old gray-haired man is only a vehicle coordinator without even an office or fixed office hours at a parking plot in Beijing.
"I was the manager of a paper mill for 10 years, and there were 200 workers under my leadership at that time. The environment pollution shut down the mill," Du said.
Du comes from Baoji, Northwest China's Shaanxi province, and he started working as a vehicle coordinator in 2007. He is responsible for collecting parking fees and facilitating the coming and going of cars. There are 70 parking spaces, and on a normal day he needs to coordinate 500 cars.
"I have worked here for four years. I am old now. After one or two years, I will go back to my hometown in Baoji and do farming again."
Du now lives with his family in a 10-square-meter room that rents for 400 yuan per month. Du's salary is not fixed, and after paying 2,000 yuan each month to the owner of the parking lot, he usually can save 1,000 yuan.
"If you can work hard, you can earn money. I once worked for three days and nights without going home. But even a young man can't do this job. It's hot in summer and cold in winter," Du added.