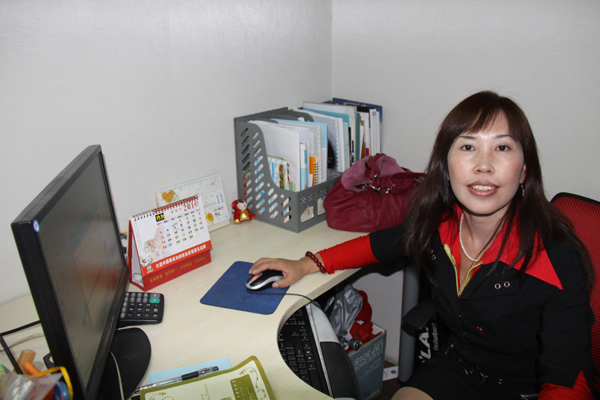 Wang Wen 
Wang Wen from Central China's Henan province has been working in Beijing since October 2003. Now as an experienced sales manager at an advertising company, she also works on weekends as a hostess at wedding ceremonies.
Once a music teacher at a private school and a church, she did dream of becoming a singer in Beijing, only to find that was not so realistic, as all she had was her good voice. Then while training in mandarin, she was encouraged by her teacher to try working as a host.
"My past experience of teaching helped me develop the sense of taking care of other people's psychological needs, and this contributes to my performance at wedding ceremonies. I can sing too," she said.
But neither of her past and present occupations seems to be directly related to her dream - to run a center for aging people. Hosting wedding ceremonies is just too superficial because everyone appears to be happy, and taking care of aging people would be more meaningful, the forthright Wang added.
Wang thinks the existing homes for the aged are of low-quality or too expensive for ordinary people. She plans to turn hers into a chain, so members of her service can travel and live in different cities, like Shanghai and Guangzhou.
She wants to attract young volunteers to work at the center, too. On the one hand, the volunteers will help aged people live a happy life. On the other hand, they will get inspired or develop new ideas about life. For example, the young people, Wang says, may pay more attention to their health and exercise more.
She also admits this is a long-shot dream and she will pay more attention to improve her knowledge and understanding of this sector. Also, she plans to visit foreign countries to learn about advanced ideas in management.
"I want to do something deep and beneficial to society," the 32-year-old said.