Countdown piles pressure on parents, students. Zhou Wenting and Wang Shanshan report in Beijing.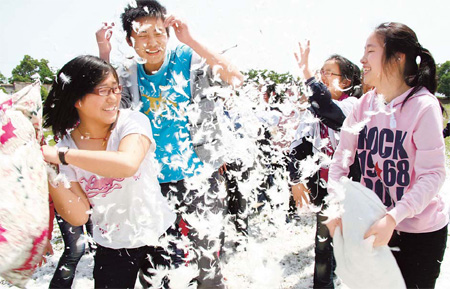 Students in their last year at Lintou High School in Hanshan county, Anhui province, take part in a pillow fight as part of a stress-busting exercise. [Photo/China Daily]
Tan Nanqi is riding a roller coaster of emotions these days. Although solving a difficult mathematical puzzle may put her on cloud nine one minute, it is not long before the thought of next June brings her crashing down to earth.
The 17-year-old is among roughly 8 million students nationwide who this month embarked on their final grade in high school, a year of often intense pressure that culminates in the dreaded gaokao, or college entrance exams.
"Who isn't terrified of failing the gaokao?" said Tan, who studies in Nanning, capital of the Guangxi Zhuang autonomous region. "The outcome (of that test) will decide our destinies."
Related readings:


 Treat top Gaokao scorers with a cool head


 Top gaokao scorers fail to live up to expectations


 Stunning ancient-style essay emerges from gaokao


 7 cheat in gaokao with high-tech devices in NW China

The three-day exam, which caps every Chinese student's 12-year education from elementary school to senior high, is vital for youngsters looking to secure a university place amid today's tough job market.
"Children endure a great deal of pressure during that last year," said Wang Xuming, a former spokesman with the Ministry of Education and now publisher of Language and Literature Press. "The gaokao is the only way for them to change their destiny, as society only acknowledges college qualifications."
Not just students feel the heat, though. Parents also suffer anxiety, with some even choosing to quit their jobs to provide 24-hour support to their children, seven days a week.
About 9.46 million students sat the gaokao last June, according to official figures. Although that number is expected to fall for the third consecutive year in summer 2011, competition for China's highly coveted college places remains fierce.
"The gaokao really counts," said Hu Chuan, a final-year student in Nanchang, capital of Jiangxi province, whose summer break this year was almost entirely taken up by extra study courses.
"I'm like an alarm clock now. I wake up at 6 am and can't fall asleep until after midnight," said the student, who has an average academic rating and admitted he has become virtually obsessed with catching the top performers in his class.
"Every time I take a rest, I think about the best students reading books, so I go back to studying. Every time I want to sleep, I think about them still doing exercises and I carry on studying," he added.
Unlike Tan and Hu, 17-year-old He Xing at Shanghai No 4 Middle School, insisted she is unfazed by the pressure.
"What doesn't require effort?" she mused coolly after being asked if she was daunted by preparing for the entrance exam. "I don't think I'll be staying up late, though. I'm a quick worker."