SHANGHAI - More than one third of school-age children in the city are overweight or obese, and the proportion is continuing to grow, a health expert said.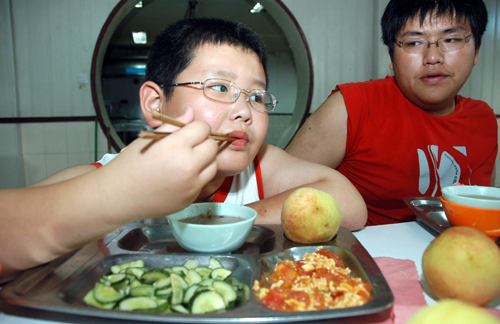 A boy on a diet eats mainly vegetables and fruit at a summer camp for overweight children in Shanghai designed for them to loose weight. [China Daily]
"Our research found that Shanghai has the highest percentage of obese and overweight children, compared with other cities in the country," said Tang Qingya, director of the clinical nutrition center of Shanghai Xinhua Hospital.
Tang is also leader of a child obesity research group backed by the city's health bureau.
Related readings:


 Obesity top threat to children's health: poll


 Obesity linked to lower sperm count in young men


 China faces big obesity challenge: researcher


 Asian study links obesity to cancer

The center used a measurement called body mass index (BMI), which is found by dividing a person's weight in kilograms by the square of his or her height in meters.
A BMI above 25 may indicate being overweight, and a number over 30 suggests obesity.
Tang's research group recently studied 3,157 students aged 8 to 10 in the city's Baoshan district and Yangpu district.
They found that about 21 percent are obese and 15 percent are overweight.
Both numbers are higher than the average percentages of other large- and medium-sized cities, by about 8 percent and 13 percent, respectively.
Various factors lead to childhood obesity, including unhealthy eating and living habits, infant overfeeding and doting parents, Tang explained.
Tang added that if more food is taken in than is needed to produce energy, the surplus will be converted to fat, and may lead to obesity.
According to the obesity outpatient department at the Shanghai Children's Medical Center, the number of obese patients has more than doubled during summer vacations.
Feng Yi, a doctor at the center, said they received nearly 20 children patients each day.
"Many children put on weight during the summer holiday, as they often keep late hours and rarely do sports during the holidays." Feng said.
"The summer holiday is usually considered a golden period to lose weight."
Research has shown that children aged 6 to 14 can put on up to 8 kilograms during the two-month summer holiday.
"I usually stay in an air-conditioned room all day for these two months, as I want to have a good rest after studying hard for the whole semester. Plus, it's too hot outside," said Kang Yiwen, 14, who is 1.65 meters tall but is over 70 kg already.
What's more, he has ice cream and sweet drinks almost every day, according to Kang's mother.
"I keep asking him to quit eating them, but it never does any good," she said.
"Nowadays, children just eat too many snacks with little nutrition but high calories, and then lose their appetite for normal meals."
Overweight and obese children are more likely to suffer from obesity when they grow up, which may cause chronic diseases such as metabolic syndrome, diabetes, cirrhosis and hypertension, said Gao Jian, deputy director of the nutrition section at Shanghai Zhongshan Hospital.
"Obese children are also more likely to have chronic diseases even if their weight becomes normal when they are adults," he added.