SHANGHAI - As Chinese hairy crabs, or Dazha crabs, come back in season, concern has been raised over the safety of eating them after an online post claimed that excessive drugs are used to rear them.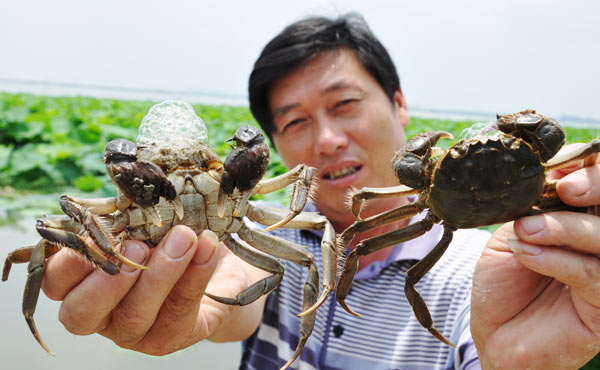 A crab culturist shows Dazha crabs at Yangcheng Lake in Suzhou, Jiangsu province, on Jun 30. [Su Min / for China Daily]
A recent post on tianya.cn, one of China's most popular forums, said excessive amounts of antibiotics and hormone-based contraceptives are used to feed the Chinese hairy crabs to make them grow faster and fatten them up for market.
Related readings:


 Govt moves to improve food safety systems


 China to set up safety system for cosmetics, skin care products


 China to tighten supervision of food safety


 FDA chief praises China's food safety effort
Although sales of hairy crabs have not been affected by the claim, many people expressed their concerns, with one netizen having said: "If this really happens, I would never eat hairy crab again."
However, Yang Weilong, chairman of the Yangcheng Lake Crabs Industry Association, denied the allegation on Sunday. While hairy crabs are reared in a number of districts in China, Yangcheng Lake is considered to produce the best.
"This is impossible. Using contraceptives or similar drugs is unfavorable to the growth of crabs," the Beijing Morning Post quoted Yang as having said.
"Water crabs thrive in fresh water and the lake in which they are raised is quite large, so it would be impossible to lace it with drugs," he added.
Pan Liande, a professor at the fisheries and life science college at Shanghai Ocean University, said antibiotics are in fact used in rearing crabs, but the type and quantities dispensed are strictly regulated for the prevention and treatment of disease.
"Some additives used in raising crabs also contain a certain amount of hormones, though the amount is also regulated," Pan said.
Pan, who has conducted research on aquatic products for a number of years, has advised breeders on techniques for efficiently rearing crabs.
"During my work, I have met many aquatic product farmers in Shanghai, Zhejiang and Jiangsu provinces. From the information I have collected, most crab culturists raise crabs in a scientific way and do not use contraceptives or excessive antibiotics," Pan told China Daily on Monday.
In Beijing, Yangcheng Lake crabs are expected to come onto the market later this month, ahead of the Mid-Autumn Festival on Sept 22.
The Beijing Fengtai district industrial and commercial bureau requires local crab sellers to display their certificates of origin and quarantine report to ensure the safety of the hairy crabs on the market.