People reluctant to divulge information or even answer the door, reports Lu Chang in Beijing.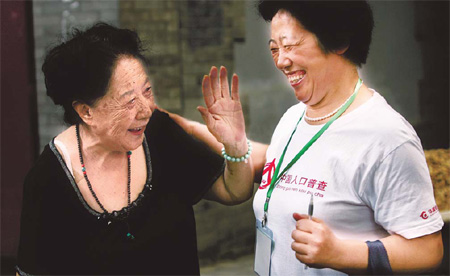 A census taker chats with a resident in downtown Beijing. Some 6 million workers nationwide are helping to register residents' information for the sixth census. Cui Meng / for China Daily 
Related video: China includes foreigners in census for the first time
Special coverage: China's Sixth Population Census
Growing wealth and privacy concerns can often result in census takers being treated with suspicion more than cooperation. When census taker Wang Xinwei knocks on the door many Chinese, rather than foreigners, are reluctant to even speak to her.
"I'm surprised it's the Chinese who are not very cooperative," said the 21-year-old community worker, who was assigned a neighborhood in downtown Beijing. "Some Chinese residents would rather fill out the census at registration centers than let us come into their homes."
Wang is one of 6 million workers nationwide helping register residents' information for the sixth national population census.
"Foreigners answer my questions after I introduce myself as a census taker and some even volunteer to help me contact their friends in the same community," she said. Many Chinese, though, "slam the door in my face or refuse to open it".
Research suggests that this attitude is due to insufficient publicity about the census.
An online poll by sina.com, a leading news website, showed 47.4 percent of 8,237 respondents said they do not have much knowledge about the census and nearly a third admitted they feel unsafe letting census takers into their homes.
One of the main reasons for the latter appears to be an increased awareness of privacy, thanks partly to a growing middle-class.
"People no longer feel they should be managed," said Zhang Yi, a researcher for the Chinese Academy of Social Sciences' institute for population and labor economics. "Instead, they believe they should be served by the government. That is why they say no to census takers before they are convinced their privacy is protected."
Rapid economic growth over the past decade, coupled with an expanding private sector, has prompted a surge in wealthy Chinese. Sociologists say these people are becoming increasingly protective, especially since ownership of private properties was enshrined in the Constitution in 2004.
A report by the Chinese Academy of Social Sciences this year said China's middle class - usually people with an annual income of 60,000 to 500,000 yuan ($8,800 to $73,000) - accounts for 23 percent of the country's 1.3-billion population. That figure is expected to hit 35 percent in 10 years.
Security worries
Before the 1990s, when most people worked for State-owned companies, where employees often know each other's income, and when the government allocated housing, people did not feel they had much privacy to protect, explained Zhang.
Today, the new middle class and super rich do not want others to know much about their wealth.
"Some people who live in up-market neighborhoods don't want to reveal details of their lives because they fear it's more of a check of their properties," said the researcher.
Another reason for citizens' protective attitudes, say experts, relates to births that remain unregistered to avoid punishment under China's one-child family planning policy.
Xing Zhihong, deputy director of Beijing's population census, promised privacy will be protected. All the information gathered will be for research only and will be destroyed after the population statistics are compiled and released, he said.