PINGDINGSHAN, Henan - Two months ago, his tattered clothes and soot-covered face told the tale of his difficult and impoverished life as a coal deliveryman.
Today, he has taken that story and turned it into a successful song and dance number.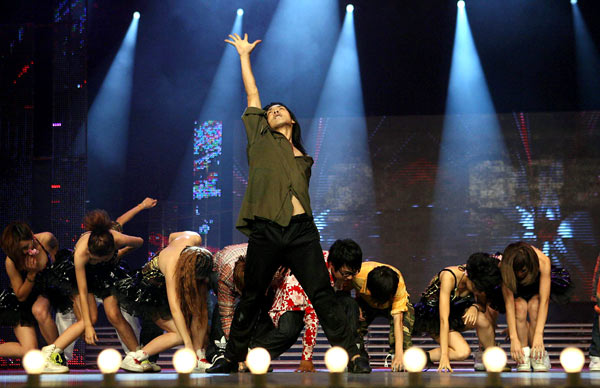 Li Xinyi dances during the 2010 reality TV show The Top Talent on Henan TV on Aug 22. Li won the contest. [Li Yang / for China Daily]
Forget Gene Kelly singing in the rain - Li Xinyi is the coalman who dances down the road when his deliveries are done.
And it was a passerby who, impressed by the moves, suggested to Li that he try out for Henan TV's The Top Talent.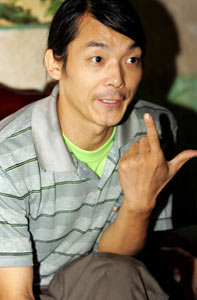 Li Xinyi, who sells and delivers coal, became a star after dancing on TV. Here is an account of an exchange he had with reporters at his home in Pingdingshan, Central China's Henan province, on Aug 24. [Xiang Mingchao / China Daily]
Since that chance meeting, Li has risen from a common coalman to instant stardom, having been dubbed "Brother Briquette" and the "Dancing King of Henan" after winning the 2010 reality television show, similar to the UK's Britain's Got Talent.
"It's nice that when I'm old, I will be able to watch a video of my dance on TV," the 33-year-old said of his championship on the Aug 22 show, which came with a prize of 300,000 yuan ($44,000).
The long-haired coalman won over the audience and judges not only for his Michael Jackson-like dancing moves, but also his realistic outfit.
Dressed in an old brown cap, a loose ragged coat stitched with iron wire and a pair of pants that have been sewn up more than 100 times, Li, his face caked with soot, went on stage lugging a handcart of briquettes.
The judge joked that he looked like the leader of a gang of beggars.
Li went on to dedicate his dance to a group of people called xiake - literally, knightly tramps, though the phrase is also used to refer to today's migrant workers.
"Romantic as it might sound, a xiake is in fact a homeless person," he said. "They have served as inspiration for my dances and I dance for them."
Born into a farming family in Pingdingshan, Henan province, Li left school at the age of 14 because his family could no longer afford the tuition.
His mother, elder sister and younger brother all suffer from mental illness, loading the family with debt. When his father fell sick, Li became the only breadwinner in the family.
In 2008 he started to make and deliver briquettes in neighboring Baofeng county.
Related readings:


 Plug pulled on popular TV show


 Henan's 'Happy Star' TV show a huge hit with kids


 Broadcaster fined over killing a rat on TV show


 Stars surprised at family roots in new TV show
While others went home around midnight, Li would usually stay making briquettes until 2 am, earning a daily wage of 50 to 70 yuan.
In the slow summer season he would do other jobs to make ends meet.
It was during these difficult years that Li saw the movie Breakin', which depicted young street dancers finding success in a dancing contest.
He began imitating dancers on TV - Michael Jackson became his idol - and as his skill improved he began creating his own moves.
Many of Li's dances originate from his daily work, such as the movements involved in making briquettes and shoveling coal.
He dances to music on his cell phone out on the street every day after deliveries, winning applause from passersby.
"It's fun and relaxing," he said. "I wear my delivery costume on stage as I want to show the true Li Xinyi to the judges," he said with a strong local accent.
When his pregnant wife accompanied him for the first audition, they spent the night on the square in front of Zhengzhou Station. "But during the preliminary contest, I stayed in a luxury hotel for the first time in my life," he said.
The prize money has allowed Li to pay off a 60,000 yuan debt, as well as help others - something he has always wanted to be able to do.
The last thing he wants to see is students dropping out of school because of poverty, Li said, speaking from his own experience.
He said he would also donate some of the prize to help the homeless.
"My younger brother died on the street as a tramp at 15," Li said. "I hope things like that won't happen again and I hope people will begin to pay more attention to this group of people through my dancing and offer their help, too."
Xu Lin contributed to the story.