BEIJING - For Nyima Gyatso, 37, rebuilding his quake-ravaged hostel Samadhi is about more than putting up 12 Tibetan-style tents on an open meadow.
It is also a process of rebuilding local culture.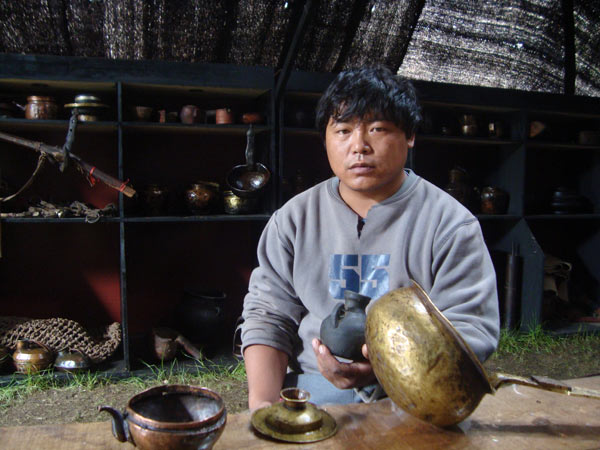 Nyima Gyatso, a hostel owner and folklore teacher in earthquake-hit Yushu county, Northwest China's Qinghai province, displays his private collection of traditional Tibetan utensils and handicrafts at his newly rebuilt Samadhi hostel. [Provided to China Daily]
"Rebuilding Samadhi is a bittersweet experience," said Nyima, a folklore teacher at Yushu Vocational School in Yushu, a county in Northwest China's Qinghai province stricken by a 7.1-magnitude earthquake in April.
Before the earthquake, Samadhi - which means a higher level of concentrated meditation in Buddhism - featured authentic Tibetan decoration and was among the most popular hostels in Yushu.
Related readings:


 China to earmark $3.1b for Yushu reconstruction


 Favorable import duties for post-quake Yushu


 Officials seek to regulate Yushu quake cash donations


 Massive rebuilding of monasteries started in Yushu
Almost destroyed in the earthquake with the hostel was more than half of Nyima's private collection of Tibetan traditional daily utensils and handicrafts.
For Nyima, those items also represent his hometown.
Largely inhabited by Tibetans, Yushu sits in the heart of the Sanjiangyuan region, where one finds the headwaters of the three major Chinese rivers that spawned Chinese civilization - the Yellow, the Yangtze and the Lancang.
The place has long been regarded by many as the "last Heaven on the Earth".
However, Nyima said, if he had not at one point walked away from the vast plateau, he would never have come to realize the beauty and value of his own culture.
Nyima first left his hometown in 1994 when he went to college in Xining, capital city of Qinghai province.
"I felt a strong attachment to my hometown when I was far away from it," he said. "I missed its people and horses, mountains and temples."
When he returned to Yushu in 1998 after graduation and became a teacher, he would climb mountains almost every day, listening to local herders tell legends and stories about the sacred mountains and temples.
"For the first time I realized they were not just mountains and temples. They are carriers of our local culture," he said.
Enchanted by this realization, Nyima resolved to research and collect materials connected to the local lifestyle, history and customs.
He spent the following two years traveling to all corners of Yushu collecting folk artifacts such as traditional apparel and handicrafts, while taking photos of local Tibetan life.
Sometimes he even persuaded strangers to sell him their traditional Tibetan costumes or accessories.
By 2001 he was able to host an exhibition featuring Sanjiangyuan folk culture as part of the celebration of the 50th anniversary of Yushu county.
Visitors were surprised to see the richness of their own folk culture and were shocked to realize they had unconsciously given much of it away amid the ongoing modernization, Nyima recalled.
"Nowadays, a majority of young Tibetans don't live a traditional pastoral life anymore, and know little about their parents' way of life, such as putting up a tent or making ghee (butter)," Nyima said. "Without knowledge and understanding of our traditions, we might be totally blind to the wisdom embodied in them."
For example, Nyima said, Tibetans traditionally use flints to make fire.
"Many youngsters prefer to use lighters nowadays, only to complain when they become useless at a higher altitude," Nyima said.
Soon after the exhibition in 2001, Nyima spent one year at the Capital Museum in Beijing learning cultural relic identification through a sponsorship by a US foundation.
He spent another three years in Beijing as a postgraduate majoring in folklore at Minzu University of China. During that time he also brought his collection of artifacts and photos on Sanjiangyuan folk culture to several top universities in Beijing for exhibitions.
In 2007, Nyima went back to Yushu and two years later opened Samadhi, the hostel where he houses his personal collection of Tibetan art, handicrafts and photos.
"I reopened Samadhi because I wanted to draw the public's attention to Sanjiangyuan's colorful civilization and simple and honest people," he said.
"Before Samadhi was opened, I used to work alone. Inside Samadhi, however, I have the chance to talk to many visitors interested in local customs, and even some experts."
Lack of resources like electricity and helping hands made the rebuilding of Samadhi extremely painstaking, Nyima said.
"But it was also exciting because I had the chance to apply all the folk culture and customs I've learned about home building," Nyima said with excitement.
For example, it is a Tibetan tradition to hold a tortoise or tortoise body around the foundation before erecting a tent or hut.
"Legend says that the water spirit would thus protect the family," Nyima said.
As people in Yushu rebuilt after the earthquake, Nyima noticed he wasn't the only one following that tradition.
"It's really encouraging that more and more people are coming to see that real development is based on maintaining cultural roots rather than deviating from them," he said.