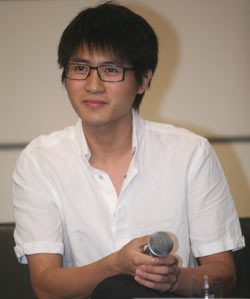 Han Han is a famous writer and blogger.
BEIJING - The publication of a bimonthly magazine launched by China's most popular blogger, Han Han, has been postponed indefinitely due to a lack of licensing.
Han, founder and editor of Duchangtuan, or Party, the best-selling literary magazine in China this summer, said the cooperation between him and the publisher of the first issue had officially ended.
"I'm still looking for a new publisher, but have made hardly any progress," he told China Daily in an exclusive interview.
As a result, the publication of the second issue of the magazine, which was previously scheduled to be released around Aug 30, has been postponed indefinitely.
He refused to say what exactly caused the end of the cooperation, but indicated that many publishing houses are unwilling to publish a magazine run by him out of fear that he is "beyond control."
Publishers are more than happy to make money, but they don't want to have pressures, said the 27-year-old professional rally driver, best-selling author and popular blogger.
Once dubbed "China's literary bad boy" by the US Time magazine, Han is well known in China for some of his outspoken blog articles.
Related readings:


 China's Han Han ranks 2nd in Time poll


 Han Han makes Time magazine's top 100 list


 Sweet smell of success for Han Han


 Han Han mews for peace after first roar in Year of Tiger
The director of the editors' office of the publisher of Han's first issue of the magazine, Shuhai Publishing House, could not be reached for comment on Tuesday. Tianjin Chinese-World Books Inc., distributor of the magazine, would not comment.
More than one million copies of the first issue were sold by July 22, according to the Tianjin distributor.
On July 6 when the magazine was launched, dealers in Beijing alone sold 22,000 copies within 20 minutes. All 500,000 copies of the initial printing of the first issue were divided up among distributors within two days. The literary bimonthly climbed to the top of the best-seller list of Amazon.cn less than 10 hours after pre-selling.
Despite the huge success in the market, Duchangtuan is not a real magazine in the legal sense.
Without a standard serial number needed for a magazine, the first issue of Duchangtuan actually came out as a series of books. Han has been trying to solve this problem by seeking cooperation with a publisher that already has a license for an existing title.
"My major concern is how to legalize the magazine," Han said. "I'm worried that it might be called off if it continues to publish in the form of a book."
In the past few years, applications for a China standard serial number were rarely approved by the General Administration of Press and Publication. According to statistics from the administration, a total of 9,851 magazines were published last year, while the total number of magazines only increased by 383 from 2006 to 2009.
Also, the current format is bad for attracting advertising, Han added.
Priced at 16 yuan ($2.35) a copy, the magazine cost about 400,000 yuan of royalties per issue and 100,000 yuan of operating expenses per month, according to his estimation. No advertisements ran in the inaugural issue.
Han is also concerned that if the magazine stops publication, foreign media will probably suggest that the Chinese government is cracking down on him. "I don't want government institutions to be the scapegoat," he said.
Duchangtuan is not the only title that goes around licensing due to the difficulties in applying for a new serial number. One Way Street, a bimonthly magazine covering humanities, arts and thought, was launched in August last year, and was also published as a book.
"I hope it will play a role in China's public life by making a clean and thoughtful voice that does not appeal to lowbrow tastes, but encourages mental pursuit," said Xu Zhiyuan, editor of the magazine and co-founder of the bookstore One Way Street Library.