BEIJING - Mobile phone customers will have to present ID when purchasing a phone number from Wednesday, in the latest campaign by the government to curb the global scourge of spam, pornographic messages and fraud on cellular phones.
Foreigners will also need to register with their passports or other ID in order to subscribe to mobile phone carriers.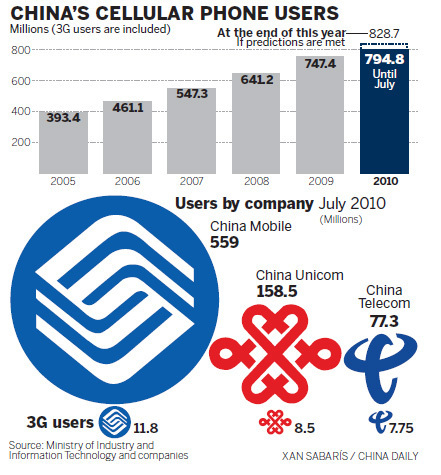 Also from Wednesday, street newspaper stands will be banned from selling SIM cards, the Beijing Evening News reported.
The report said this was a temporary measure and after the owners were instructed on how to register customers they would be allowed to sell SIM cards again.
Related readings:

 Cellphone registrations to require real names

 Crackdown launched on cell phone porn

 Gamers back real-name registration: Poll

 Real-name registration coming for online shops
Subscribers who did not show ID when they registered before the new regulations came into effect are encouraged to do so, the Ministry of Industry and Information Technology (MIIT) said.
By the end of June, there were about 800 million mobile phone users in China and as many as 320 million did not provide ID information, said Chen Jinqiao, deputy chief engineer from the China Academy of Telecommunication Research.
The new rules, of which fuller details will be disclosed soon, are part of the government's efforts to prevent spam, pornographic messages and rampant fraud through the network, said MIIT spokesman Wang Lijian.
A government-backed spam mobile message complaint center said on Aug 23 that mobile users in China on average received 43.3 messages weekly in the first half of this year and, on average, 12 of them were spam.
The center also said 74.5 percent of users surveyed received messages involving fraud. Many users were so annoyed that they said they would gladly spend 2.17 yuan (32 US cents) per month to block spam, the center added.
As mobile phones gain in popularity many countries have come out with tighter regulations over the industry.
For a number of years India, Japan, Australia, and Singapore have demanded ID for registration in an effort to tackle crime.
Last month, the Indian government said it might ban some BlackBerry messaging services as they could be used for terrorism or other illegal activities. The Indian government has delayed any decision while it is in talks with Research In Motion, maker of the BlackBerry, over access to data.
Telecom operators in China, including China Mobile, China Telecom and China Unicom, said they would follow the new rules.
A newsstand owner in Beijing surnamed Liu, who sells about 20 phone cards a day, believed that the new rules would have an impact on her business. "I am not sure about the effects of the policy, but I think it will definitely hurt business," she said.
But the sheer number of unidentified subscribers means it will be difficult to get them to submit their identity.
Ulrich Mller, a German living in Beijing, said he bought his phone card at a China Mobile service center. "It's normal in Germany to provide your ID card when you buy the mobile phone card. It has been strictly implemented for a long time, and it's generally accepted among the public," he said.
Linda van der Horst, a student at Peking University, said that in Holland, people did not have to present ID when buying a prepaid card. But for a subscription card, users had to provide ID information and a bank account statement.
"It (China's policy) is good, but maybe a little difficult to implement," she said.
It was reported that China Unicom might introduce a monthly fee deduction to existing subscribers in exchange for them registering with ID but the company declined to confirm that, saying they were waiting for detailed rules from MIIT.
The government planned to carry out nationwide registration as early as 2006, but it did not materialize because telecom operators and users showed little enthusiasm.
"It will take a long time ... for the operators to carry out the new policy," said Chen from the China Academy of Telecommunication Research.
Huang Ying and Shen Jingting contributed to the story.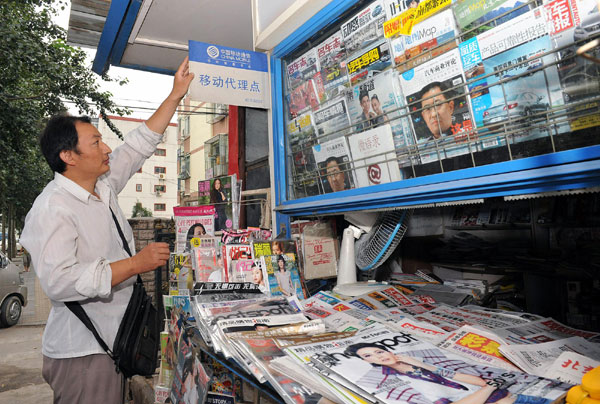 A newsstand owner in the Shijingshan district of Beijing puts away a billboard of mobile phone numbers, Sep 1, 2010. [Photo/Xinhua]