Liu Yongfan is still haunted by the memory of his house being jolted and torn apart.
Shaken awake by a thunderous rumbling, the farmer could only watch on helplessly with his neighbors in Hutang village as the shifting earth destroyed their homes.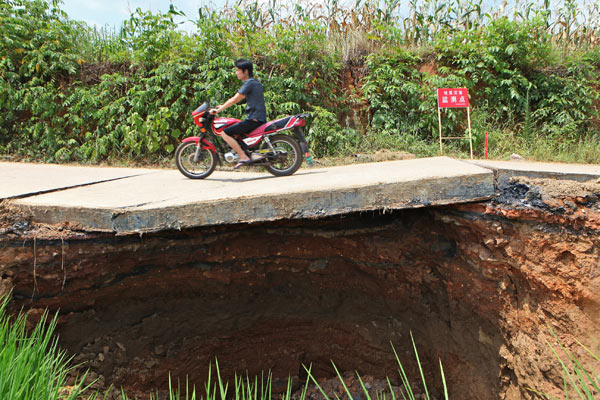 A villager rides on a road beside a large sinkhole in Hutang village, Hunan province. Sinkholes have plagued provinces and regions across the country this year and have so far led to the resettlement of hundreds of villagers. [Photo by Zhang Tao / China Daily]
"When I felt the tremors at about 3:40 am, I immediately woke my wife, child and parents up," he said, the fear still visible in his eyes. "I yelled at them to get out of the house and into the yard."
Residents crowded together on the streets until sunrise when they finally got a chance to assess the damage.
Related readings:


 New sinkhole appears in north China city


 Big sinkhole has neighbors jittery


 Villagers wait for end to sinkhole hell


 Six dead in cave house collapse


 6 miners dead after colliery cave in E China
Liu's two-story home, which he built himself, was riddled with deep cracks that snaked along the floors and walls.
Although there were no casualties, more than 160 houses were damaged in the incident, leaving 866 people homeless, said Wu Changjiang, vice-director of the information department for Shuangfeng county, Hunan province.
"At the time, many of us thought it was an earthquake," added Liu, who is in his 30s.
According to government experts who arrived the following day, however, they were wrong. Investigations later revealed the July 25 destruction was actually the result of mining, which caused a series of sinkholes.
Known as tiankeng, or heavenly pits, sinkholes have brought havoc to several Chinese provinces, including Sichuan and Zhejiang, since late April.
"The surface collapses (in Hutang) were from the giant goaf area underneath (the village), which resulted from activities by Shuangfeng Gypsum Mine Ltd," said a report issued by staff at the provincial department of land and resource.
Sinkholes opened up in homes and on farmland, while traffic was initially unable to pass the huge clefts carved in the village's roads.
About 40 hectares of farmland was affected, including severe damage to 15 kilometers of irrigation channels and 47 reservoirs, according to figures provided by Wu. Many rice fields also drained, causing seedlings to starve in the heat.
Water and electricity supplies to the village were both cut off and 215 wells dried out.
Underground work
The Shuangfeng mine allegedly at the center of the problem was operating under all the required documents before the incident, said Wu.
Five days before the sinkholes opened, bosses halted production to comply with restrictions during the busy harvest season. Officials confirmed it has now been closed until further notice.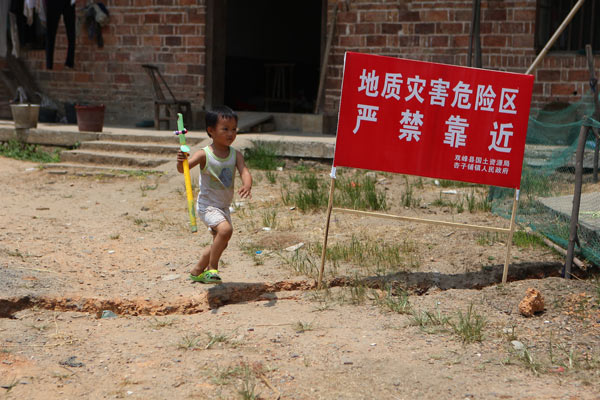 A boy plays around a crack where officials have placed a sign warning about the sinkhole danger. [Photo by Zhang Tao / China Daily]
Chen Jianxin, Party secretary for Hutang, named the mine owner, Huang Zanfu, who lives in the county but spends most of his time traveling to other cities. Many villagers said they have never met him.
China Daily reporters could not reach Huang for comment.
Liu used to work at the mine as a driver transporting gypsum, a common mineral often used as an ornamental material. He said he was not surprised when he heard about the experts' report and claimed the facility had been "operating illegally for a long time".
"About 10 to 20 villagers worked there," he said. "Miners felt that some of the operational methods were violating the rules."
Regulations require 16-meter-wide shafts to be separated by a 4-meter support area. Yet, at the Shuangfeng mine, shafts were often more than 30 meters wide, while the support areas were about 1 meter, said Liu.
"The county government sent a team of experts to inspect the mine seven years ago," he added. "They asked the bosses to build some artificial pillars (in the shafts) but they didn't."
According to Chen, the mine was a State-run company until it was contracted to a private company in 2003. "That's when the problems started. The reports we submitted are now this thick," he said, gesturing with his hands to show a pile of papers 30 centimeters tall.