BEIJING - The growing shortage of farmland and water resources may prevent China from achieving its ambitious grain output targets in the next decade, warned both officials and experts.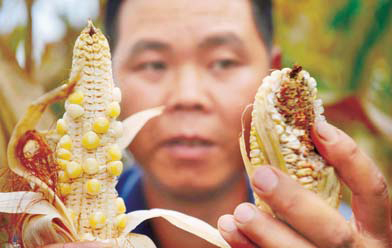 A Guizhou farmer holds his poor harvest. Severe drought has greatly affected crops in many parts of the country this year. [Xinhua] 
Acute shortages of reserve farmland and water resources are now the main restraints for the country to ensure its food security, Zhang Ping, minister of the National Development and Reform Commission, said on Thursday while making a report to the top legislature.
Related readings:


 China to ensure grain safety: official

 Steady grain output expected this year


 Challenges aside, govt assures good grain harvest


 Wen calls for efforts to boost grain output

Facing a rising population, the central government plans to boost China's annual grain output to more than 550 million tons by 2020, an increase of 50 million tons over 2007.
By contrast, the cultivable land in the country sharply decreased from 130.04 million hectares in 1996 to 121.72 million hectares in 2008 due to rapid urbanization and natural disasters, figures from the National Bureau of Statistics show.
Also, the current per capita cultivated farmland is about 0.092 hectares, which is only about 40 percent of the global average. Less than 4.7 million hectares in the country can be considered reserve farmland, Zhang told the legislature.
The country had its sixth consecutive grain harvest in 2009, with grain output rising 0.4 percent year-on-year to a record high of 530.8 million tons, the official figures showed.
"The increase of the grain output in recent years is mainly due to enlarging the planted areas, as the government encouraged farmers to produce grain by offering subsidies since 2004," said Lu Bu, a researcher with the institute of agriculture resources and regional planning at the Chinese Academy of Agricultural Sciences.
"But these grain output increases cannot be continued since China does not have much additional farmland to be cultivated in the future," he said.
More improvements should be made in other aspects, such as advancing planting techniques and increasing high-yield fields, he said.
Currently, China's wheat yield is 4.61 tons per hectare compared with the world average of 2.76 tons. Per hectare rice and corn yields are 6.38 tons and 5.28 tons respectively, compared with the global average of 3.38 tons and 3.41 tons.
Although the country now is comfortably ahead of the global average in grain output, the potential demand is still overwhelming, Lu said.
Zhang also said in the report that so far, only 33 percent of the total planted areas in China are high-yield fields. That percentage needs to increase, he said.
Water-saving agriculture should also be encouraged, Lu said. Less than 20 percent of the country's water resources are focused on large areas of farmland north of the Huaihe River, which account for two-thirds of the country's total cultivable areas.
Several supporting policies to guarantee the country's food safety will be implemented, according to the report from the National Development and Reform Commission.
"As more natural disasters hit the country, food security is becoming a top concern among the public, which forces the government to offer more concrete favorable policies," said Zhang Hulin, a professor with the Party School of the Communist Party of China Central Committee.