Xishui, Hubei - In an age when affairs of the heart are conducted in the truncated shorthand of text messages and e-mail, a story of love and devotion written in five million characters of graceful prose and poetry spanning decades of separation seems almost inconceivable.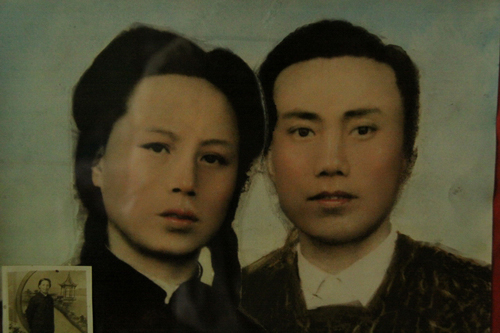 The wedding portrait of Liu Guxiang, left, and Wang Deyao taken in 1948. [China Daily]
But that is the love story of Wang Deyao and his bride Liu Guxiang, childhood sweethearts born 87 years ago in Xishui county, Hubei province.
Under the tutelage of Liu's father, a private school teacher in the tumultuous years of the 1920s and '30s, they shared a love of classical literature, which they often discussed in letters during their long courtship - which was made even longer when Wang went to what was then the Huangpu Military Academy and became a soldier during the War of Resistance against Japanese Aggression (1937-1945).
After they finally had their wedding ceremony in February 1948 in the midst of the civil war, the couple spent only 29 days together before Wang was evacuated to Taiwan with the Kuomintang army.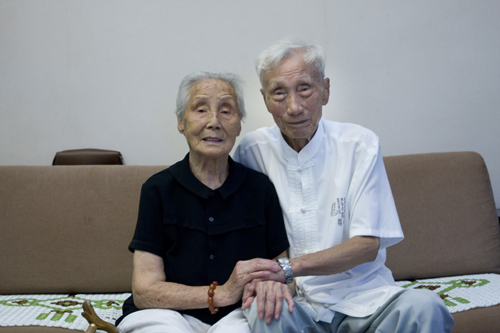 Liu and Wang sitting at home in Xishui county in Central China's Hubei province in August.  [China Daily]
And so began their long separation.
Before Wang left, Liu pasted the love poems she had written to her husband to the backs of their wedding photos. She told Wang in tears not to forget home, or her.
Little did the couple know that their separation would last 36 years, with Wang continuing to write love letters and poems for his wife during the decades-long lonely nights.
But because of the blockade between Taiwan and the mainland between 1949 and 1979, the letters and poems had no chance to reach Liu.
"The short but warm 29-day married life between us - and her love - supported my days and nights in Taiwan," Wang recalled, holding Liu's photo and letters whenever he missed her.
In 1981, the Taiwan veteran, who had remained single, read a love poem by chance and suddenly recognized his wife's handwriting.
Wang cried as he read the poems time and time again. Liu's affection for him and her despair over losing him was obvious in the lines.
Thanks to the help of friends, the two finally got in touch. But things had changed.
Liu had experienced two arranged marriages and become the mother of four children and grandmother of more than a dozen. Her second and third husbands had both died.
Eager as he was to reunite with Liu, Wang was hesitant. He was worried whether Liu's children and grandchildren would accept him.
But his worry soon disappeared when Liu sent him the hundreds of letters and poems they had exchanged during their early years.
Liu had preserved them through the decades despite the vicissitudes of the times.
Liu also attached her children's greetings and well wishes to the mail.
They resumed correspondence for another three years, and by the time they finally met again in 1984, they had exchanged more than 230 letters, over 300 poems, and 3 million words.
Including those Wang had written during the decades of separation, there are more than 5 million words of love.
Romantic as it seemed, when the couple reunited after 36 years of separation, they didn't say a word - but hugged each other and cried.
"We said goodbye when we were young and reunited when our hair was gray," Wang said. "You cannot imagine how we felt."
Soon after his return, the local government helped arrange a job and new apartment for Wang.
Life has since become peacefully happy, and the couple is keen on helping other couples separated by the Taiwan Straits.
In their spare time, they still write poems for each other, and from time to time go through the 5 million words in their letters and poems.
Publishers have even approached them about publishing their love letters, and playwrights are also showing interest in transferring their love story onto the screen.
"Life is beautiful as long as we stay together," Wang said.
Wang Feng contributed to the story.