BEIJING - Fifty kilometers away from Zambia's capital city Lusaka, halfway to a little mountain, stands a Chinese pine tree on an infinite stretch of subtropical grassland, overlooking a boundless farm.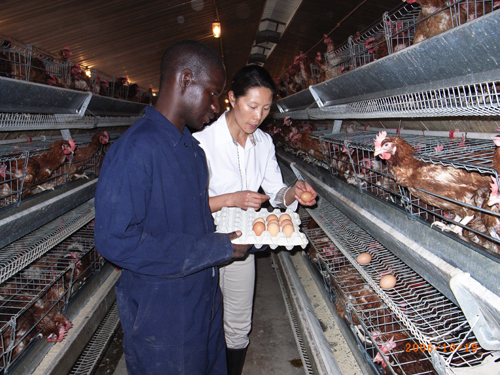 Li Li (right) and a local worker collect eggs at her farm, some 50 kilometers from Lusaka, capital of Zambia, in this file photo. [Provided for China Daily] 
This is where Li Li, 48, frequently comes after work, to the shade of the tree where her husband is buried.
A former professor at China Agricultural University, Li's husband, Wang Chi, gave up the opportunity of being a visiting scholar to the United States in the late 1980s and joined a Beijing-based agricultural company looking for a farming specialist to work in Africa.
With dreams of his own farm where he could put his specialized knowledge into practice, Wang went to Zambia in 1989 immediately after he joined the company.
It was not common at that time for Chinese agricultural experts to work in African countries offering technical support or establishing agricultural technology demonstration centers there.
Surprised at first by her husband's decision, Li offered her full support even though that meant the couple had to live apart. Li was then a nurse in Beijing.
Two and a half years later, when Wang's farm was taken over by China State Farms Agribusiness (Group) Corporation, Li quit her job and joined her husband in Africa.
Life was difficult in the beginning.
Unaccustomed to the local climate and its unsanitary condition, Li was sick on the very first day she arrived and her health hasn't improved much since.
"But I wanted to be with my husband, so I stayed," she said.
With little experience in farming or husbandry, Li set out for a new journey in life.
"It all started from a batch of broiler chickens," Li said.
In their then 10-sq-m bedroom, the only house on the farm at that time, the couple carefully bred and raised 200 chickens they had bought with a bank loan of 28,000 yuan ($4,117).
"The smell (of manure) was horrible," Li recalled. "So we planted a clove tree in front of the house hoping that the fragrance of the tree's blossoms might cover the smell."
In the early days the couple started working at midnight when they would prepare the chickens for the coming morning market.
"With a fire, boiling water and feathers flying all around you felt like you were in hell," Li recalled.
However, Li gradually became an expert in agriculture and livestock thanks to her husband's tutoring and years of hands-on experience. In her spare time, she fell back onto her training as a nurse and helped local women deliver babies.
Their farm expanded quickly, and by 2004 it was eligible for a loan of 10 million yuan from a local bank.
"We were so excited, because we could finally equip the farm with modern farming machines," Li said.
Unfortunately, Wang died in a car accident half a year later.
"The last thing he said was 'send me back home'. We thought he meant Beijing. But he said it again, clearly and firmly, 'send me back to the farm," Li recalled sadly.
Completing his final wish, Li sent part of his ashes back to China, and buried the other part at a scenic place with a perfect bird's-eye view of the farm.
"From there he could see all the progress taking place here," Li said.
After her husband's unexpected death, Li took over as the head of the farm in a bid to complete his unfinished work.
"Before he died, he told me that I was the only person he could trust with the farm because I know everything he had planned for it," Li said. "I couldn't let him down."
Over the past five years, the farm, led by Li, has grown into one of China's largest overseas farms, covering an area of 6,700 hectares with a major ranch and three small farms.
It has employed more than 3,000 local people over the years.
The farm now provides 20 percent of Lusaka's annual consumption of agricultural products, which are marked "from Zambia, to Zambia, for Zambians" on their package.
"I came to Zambia for my husband, but I stayed because I have come to love the pastoral life here," Li said.
In 2009, when she came back to China for the first time in 17 years, Li even found herself unaccustomed to the fast-paced urban lifestyle in crowded Beijing.
"To be honest, for me Zambia is like a fairyland. There is no other season but spring," said the tanned woman who has picked up a strong Zambian accent.
She said she might continue to work at the farm until her retirement, even though it is much more a decision of her employer, the China State Farms Agribusiness (Group) Corporation.
Then she'd like to move to another country for her retirement.
"Zambia has already become my second home, but as a groundbreaking kind of person I'd like to start anew at a place I've never been to," Li said.