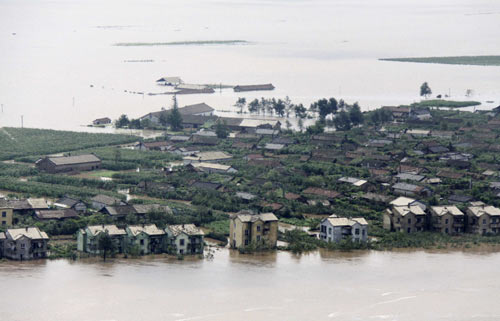 Homes in the Democratic People's Republic of Korea are flooded by the rising waters of the Yalu River near the Chinese border city of Dandong, Liaoning province, August 21, 2010. [Agencies] 
BEIJING - Heavy rains triggered landslides and caused the Yalu River, which demarcates China and the Democratic People's Republic of Korea (DPRK), to breach both banks, killing at least four people and forcing about 99,000 people to evacuate over the weekend, according to local authorities in Dandong, Liaoning province.
Though water levels at the river's worst-hit Dandong city section had dropped from Saturday noon's 7.03 meters to the normal level (4.57 meters) Sunday morning, a looming rainstorm measuring up to 250 millimeters is forecast to continue over the river basin till Monday.
Related readings:

 Authority urges increased efforts fighting Yalu River floods


 China-DPRK border flood still severe


 Minister urges pre-emptive evacuation in wake of mudslides


 Floods force evacuation of 10,000 in E China
Pictures show floodwaters had already inundated an extensive area of farmland and houses on both sides, and destroyed bridges and roads in Dandong city.
Chinese authorities had sent helicopters and speedboats to rescue stranded people.
Meanwhile, the DPRK leader Kim Jong-il ordered an emergency military rescue operation to evacuate people, the official Korean Central News Agency (KCNA) said on Sunday.
In Dandong, flash floods and landslides following heavy rain since Friday had killed a couple in their 70s and a mother and a son in the worst-hit Kuandian county, about 100 km northeast of Dandong, the local flood control authority said.
Also in Kuandian, a 60-year-old man is missing after his house collapsed in a rain-triggered landslide.
Cui Guanghui, an official with Dandong flood control and drought relief office, told China Daily that the number of people evacuated from the city had risen to 94,000 as of Sunday noon.
On the other side of the river, more than 5,000 people had been moved to safe areas after three sectors of Sinuiju city and three other nearby rural communities were "completely inundated", KCNA said.
The report did not say if there was any death from the floods in the DPRK.
"Affected areas' emergency rescue plans had showed little progress due to massive damages ... but the Dear Leader made an order to immediately put military forces to the rescue battle," KCNA said.
Traffic in downtown Sinuiju was "paralyzed", it said.
An official with the Dandong customs, who did not want to be named, told China Daily the flooding did not cut road and rail links between China and the DPRK, though there was a reduction in the number of trucks going in either direction.
Torrential rain in Liaoning province wreaked havoc in five cities, 17 counties and districts. Altogether it affected 457,000 people, leveled 3,000 houses and damaged 5,000 more by Saturday - with Dandong suffering the most, official figures show.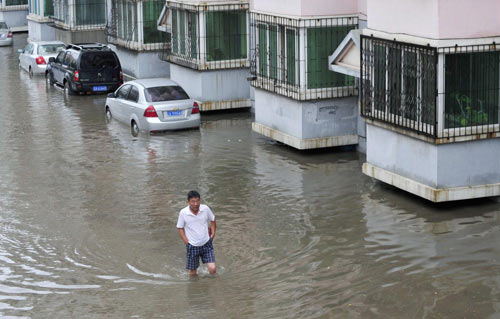 A man walks through a flooded residential area in Shenyang, Liaoning province August 22, 2010. [Agencies] 
Flood waters breached the city's first dike - which lies between the Yalu River and an economic development zone - and surged into the first floor of riverside buildings, according to a statement issued by the Dandong city government on Saturday.
The flooding caused 230 houses to collapse, disrupted domestic rail and road transportation and cut off communications and power supplies in some areas.
The downtown area of Dandong is unaffected, as another dike, two meters in height, stood between the development zone and the downtown area after authorities closed the gates on the second dike walls.
"The situation is better now. Floodwater that once filled the first floors of buildings alongside the bank on Saturday receded. Riverside roads can be seen above water level," local official Cui Guanghui said on Sunday.
"Pressure had lessened since the biggest flood peak in 20 years (28,000 cubic meters per second) safely passed the city on Saturday."
He said local authorities still kept vigilance and had assigned people to closely monitor all 47 dike gates.
Nearly 3,900 people have been killed or left missing this year in China in flood-related incidents, including 1,434 deaths in devastating mudslides in Zhouqu, Gansu province, on Aug 8, official figures show.
Premier Wen Jiabao revisited Zhouqu on Saturday and Sunday to inspect the relief and rescue work there. He paid his first visit there on Aug 9.
While visiting a resettlement center in Zhouqu on Saturday night, Wen encouraged the people there to be strong and united to rebuild their homes.
In Yunnan, the death toll from the mudslides in Gongshan rose to 29, with 63 others still missing on Sunday.
Xinhua and AFP contributed to this story.