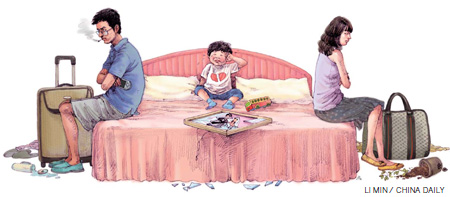 Wang Lijun looked at the red certificate handed to him only moments earlier and sighed. This simple piece of paper marked the end of almost two years of marriage.
"Obviously she is not the one for me," said the 27-year-old of his ex-wife, Liu Yan, 26, outside a Beijing registry office. "We are not for each other and we don't want to waste our youth."
He added: "I just hope my next marriage won't end as quickly as this one."
China saw increases in the number of marriages and divorces last year - up 9.1 percent and 10.3 percent year-on-year respectively, according to the Ministry of Civil Affairs.
Although studies suggest both trends are being fueled by the so-called post-1980s generation (a widely used term used for Chinese born after 1980), it is the high divorce rate that is causing the most concern among relationship experts.
Three out of 10 marriages between post-1980s couples ended in divorce last year, according to the Chinese Research Association of Marriage and Family.
Arguably more worrying than the growing fragility of marriage among this generation, however, is the selfish attitudes shown by couples to their children, according to judges, who told China Daily that many go to court because neither of them want custody.
As those born after the country's opening up are largely from single-child families, many have too much egotism and are immature, said Sun Yunxiao, deputy director of the China Youth and Children Research Center.
They were spoiled as "kings and queens" and are self-centered, he said, which affects their relationships with others.
"The reason the divorce rate is high among post-1980s couples is mainly because they value their own voices and interests highly and rarely care about other people's feelings. They lack a sense of responsibility," said Sun. "They are officially China's first 'me generation'."
On the bright side, though, this individualism means people are more aware of equality and have learned to cherish and protect their rights through law, he added.
Wang refuted the idea that his attitude led to the deterioration of his marriage.
"I loved my ex-wife, otherwise I wouldn't have married her," he said, as he studied the picture of them together on their marriage certificate. "But it's not all about love. Love is difficult to maintain."
Wang complained that his ex-wife spent every day just shopping online and spending his salary, did no housework and was useless in the kitchen.
Liu's account of why they separated was almost identical, although in reverse. In her version, instead of her being a shopaholic, she claimed Wang is an online gaming addict.
Suffer the children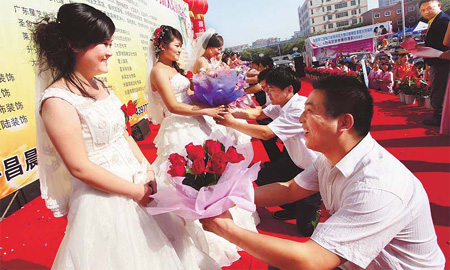 A group wedding ceremony for 10 couples in Xuchang, a city in Henan province, on the Chinese Valentine's Day on Aug 16 this year. [China Daily]
When it comes to divorce, the Internet seems to play a major role. A study of more than 100 divorce suits brought by post-1980s couples since 2008 found about 20 percent cited an "over-indulgence in Web games", according to a report by the Haidian District People's Court in Beijing.
Online gaming addictions have led to many problems in the home, with men being the main culprits, said Gao Qing, a judge who worked on the study. Although, he noted such habits are usually shaped before marriage and fail to affect couples' relationships before they tie the knot.
The court's research concluded most post-1980s couples marry in haste and are ill-equipped for married life.
"Couples should seek psychological counseling before getting wed so they can be prepared for a lifetime commitment," said Gao. "Divorce may be easier than ever but they should be made to realize this is a serious issue."
Liu admitted she now has a better idea of what it takes to make a marriage work.
"We (she and Wang) are selfish people and both grew up in single-child families, which makes it difficult to live with others," she said. "I need to learn to be independent before I tie the knot again."
Divorce was traditionally thought to bring shame onto families but attitudes have changed considerably over time. In 2004, authorities switched the color of the divorce certificate from a depressing shade of green to red, which is the same color of Chinese marriage certificates.
"It shows divorce is not treated as a bad thing anymore," said a worker called Wu at Beijing's Xicheng district registry office. "Just like marriage, it marks a new era for couples and should be celebrated."
There also remains only a small difference in the price, with marriage certificates costing 31 yuan ($5) and divorce certificates just 9 yuan.
"We are still young and divorce is just a chapter in our lives. I am looking forward to the next chapter," said Liu, who explained her parents supported her decision to split from Wang because they did not want "me to suffer anymore".
"People say we are an irresponsible generation but I think divorces show we are serious about our lives and our responsibilities," she added. (This was one of the few comments Wang agreed with.)
However, that sense of responsibility does not often stretch to the children, say experts, who claim post-1980s couples are too self-obsessed to consider the impact their separation might have on their offspring, which stands in stark contrast to older generations.
"Rather than fighting for custody, more young couples are going to court because neither of them wants to take care of their children," said Wang Jianzhong, a judge at the capital's Fengtai District People's Court.

They are not worried they cannot care for a child, he said; they simply feel their son or daughter would be a burden on their future love life.
"For many, a child is just another piece of property," said Wang Jianzhong. "They (couples) need to grow up."
Staying single
The high divorce rates, as well as other financial pressures, have shaded the view of marriage among the post-1980s generation, said Hu Jia, a psychologist at the Beijing Lu Yuan clinic.
Hu has been offering counseling to a group known as kong hun zu, or "the tribe that fears marriage", for about two years and has seen her patients double in number.
"The generation is facing a lot of social pressure - sky-high property prices, job insecurity," she said. "They are afraid marriage will add more pressure to their lives."
For many young Chinese, owning a house is a basic pre-condition to marriage, so the majority of post-1980s couples put off getting married until they can afford one.
Life pressures are also cited as one of the main reasons that many 20-somethings are desperate to get hitched to a member of the "rich second generation", those born after 1980 into wealthy families.
A survey of 992 college women in South China's Guangdong province found that almost 60 percent wanted to marry a man from the rich second generation, said the Guangzhou All-China Women's Federation.
"Many women are more than willing to find love in wealthy men so they can pursue comfortable lives," said Liu Huqian, a professor at Guangzhou University said.
But marrying a modern-day prince does not guarantee a fairytale ending, said Jia Mingjun, a Shanghai divorce lawyer.
"The imbalance of wealth means (the one without the money) is very vulnerable," he said. "Also, they often struggle to be accepted by their partner's parents, who are very protective of their wealth."
Jia explained that, in his experience, the majority of those who divorce are prompted to do so by their parents, who are the ones who really hold the purse strings. "Rich people in China have also learned to use pre-nuptial agreements, as they usually mean the wife gets nothing," he added.
However, many women still see marrying into money as a shortcut to happiness and some even register with online dating websites for the sole purpose of snaring a wealthy man.
"Please do not disturb me if you are not from the rich second generation," reads a lonely heart advertisement posted under the name of Cheng Li on jiayuan.com, a popular dating service. "Of course I will marry for love - but only marry for love with a wealthy man," wrote the 23-year-old.
Although the post-1980s generation is often criticized for rushing into marriage and being irresponsible, there are many examples of those who have got it right.
Chen Jian and his wife, Li Jingjing, are both 27 and were raised in single-child families. They got married as soon as they graduated from Beijing Foreign Studies University, where they met.
"We had no house and no jobs, all we had is each other's support," said Chen, who now works for a foreign company and owns a two-bedroom apartment in Beijing's central business district. "Our marriage has made us stronger and transformed us from immature youths to responsible adults.
"We'll never get a divorce, because we love each other," he said, smiling. "Two is always better than one."