BEIJING - As China's automobile count continues to soar, the scrapping of old cars has become an urgent issue for major Chinese cities to ensure traffic safety and reduce automobile pollution.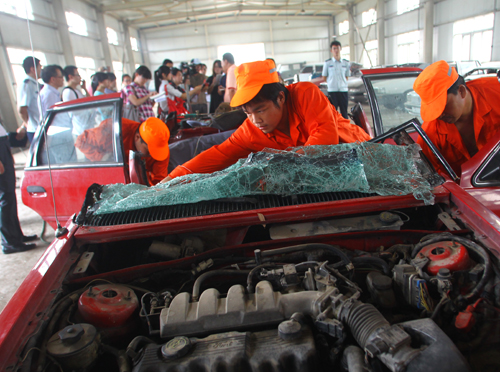 Workers disassemble a "yellow label" car — those that fail to meet the European No 1 standard for exhaust emissions — in a dismantling plant in Beijing's Shunyi district on Thursday. More than 30,000 "yellow label" vehicles have been scrapped in the capital as of Aug 13. [China Daily] 
According to a study by the China Automobile Dealers Association, more than 2 million motor vehicles need to be scrapped each year. However, only a quarter of those vehicles are typically junked, the Beijing-based Economic Information Daily reported on Thursday.
The country produced and sold 13.6 million automobiles in 2009, Ying Aibin, vice president of the Society of Automotive Engineers of China, said in the report.
According to his estimation, more than 7 million tons of motor vehicles needed to be junked in 2009 with an annual scrap rate of 7 percent.
Chen Deming, Chinese commerce minister, said at a conference in July 2009 that 2.7 million automobiles were manufactured so far that year.
China now has more than 70 million vehicles. In November 2009, the country became the biggest auto market in the world, which made the liquidation of old used cars more critical for total quantity control of automobiles.
"The car owners do not want to sell their retired cars to the recycling company," Wang Laiyun, manager of a Beijing-based car dismantling factory, told China Daily.
"They can sell the car at a secondhand car market for a higher price, compared with our offer."
Beijing is home to nine qualified car-dismantling factories. None of them are getting good business, Wang said.
Automobiles traded in secondhand markets are normally sold to other cities or the countryside, making it difficult for the government's vehicle management agency to keep track of them. Most of the used cars continue on the road without a license tag.
"If the used car is worn out and in poor shape, it is quite likely to cause traffic accidents," Wang said. "They are hard for the police to track if they flee the scene of an accident."
The Chinese government already took actions to boost the scrapping rate of used vehicles.
A policy that subsidizes car owners who turn in their old used cars to buy a new one has been established to encourage car junking.
In June, China's Ministry of Commerce extended this policy to the end of 2010.
The subsidy offers as much as 18,000 yuan ($2,651) per vehicle in Chongqing municipality in Southwest China.