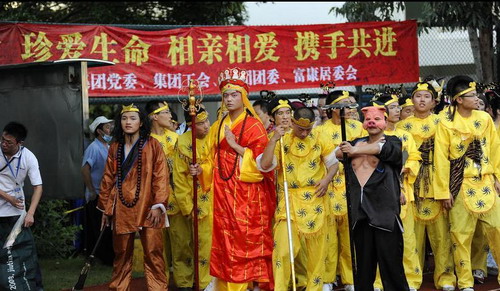 Employees from Foxconn's Shenzhen branch dress in costume featuring the characters of an ancient Chinese classic novel,Journey to the West, in the hope of halting the tide of suicides that has plagued the plant. The rally is part of the "Love Life, Love Family" public campaign held on August 18, 2010. [Photo/Guangzhou Daily]
More than 20,000 employees at Foxconn's Shenzhen factory joined a spontaneous rally yesterday under the banner "Love Life, Love Family,"the Guangzhou Daily reported on August 19, 2010.
Employees wore costumes during their performance, one employee surnamed Chen was covered in sweat as he danced among crowds. "I feel very good and stress free, and it's like a big and interesting party, all of us are happy and enjoying it," Chen told a reporter.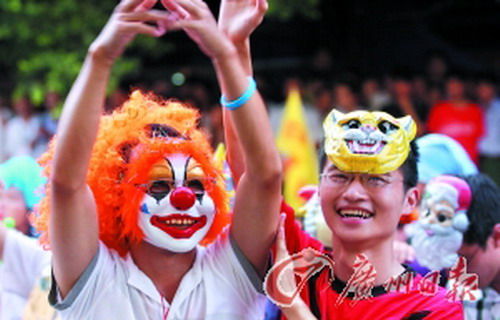 An employee dressed as a clown performs during the rally on August 18, 2010. [Photo/Guangzhou Daily]
Chen Peng, chairman of Foxconn Shenzhen Labor-Association made a final speech at the end of the rally saying Foxconn hopes through activities like this to reduce employees' stress and make everyone aware that life is priceless and one should also be responsible for their family members. "Suicide is foolish, irresponsible and meaningless and should be avoided,"Chen said.
The campaign marked the transition of the Foxconn's employees' caring project, which involved emergency psychology consultations to daily caring work schemes. Three months ago, Foxconn was plagued by a series of employees' suicides which aroused public concern and accusations about working conditions. The company says after continuous effort by the management, employees in Foxconn Shenzhen Branch show a stable and optimistic attitude towards work-life.