One young man set on preserving his cultural heritage is battling growing influences from the West to keep an ancient opera alive. Li Xinzhu has the story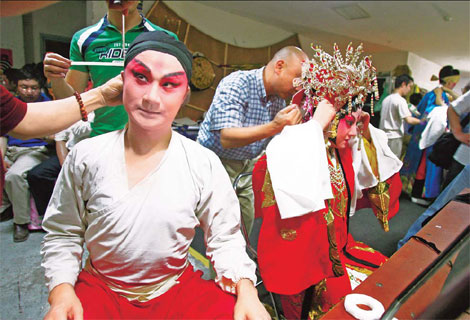 Kunqu actor Zhang Jun (first from left) gets in costume before his performance. [Photos by Gao Erqiang / China Daily]
Wearing a punk hairdo and a rhinestone-studded denim jacket, 36-year-old Zhang Jun looks more like an aging rock star than an opera singer harboring a burning ambition to revitalize Kunqu Opera.
Related readings:


 Kunqu Opera:The Peony Pavilion

 Kunqu Opera explores love with a twist


 Kunqu returns to its debut venue


 English students learn Kunqu Opera
Zhang is a graduate of business administration from Shanghai Jiaotong University, but he talks passionately about his efforts in the past decade in "imbuing an element of modern marketing into an ancient art form", which is facing the threat of extinction. Kunqu is widely recognized as the mother of all operas in China.
"We must act now before Kunqu is completely buried by the avalanche of Western influence making irreversible changes to the Chinese cultural landscape," Zhang says. "As a performer, I consider it my duty to preserve our heritage."
In doing so, he and other Kunqu performers are walking the fine line of achieving widespread appeal without compromising the artistic essentials that were never meant for the crowd.
Evolving from the Kunshan melodies of Central China, Kunqu gained popularity among the mandarin intellectuals of the Ming (1368-1644) and Qing (1644-1911) dynasties and dominated theaters in 16th to 18th century China.
In traditional Kunqu Opera, there are only a few singers performing in simple costumes on a rather bare stage with hardly any props. The music is subdued and the performance ethereal. Purists love Kunqu for the spiritual experience, compared to the more sensual enjoyment of watching Peking or Cantonese operas.
Kunqu began its gradual decline in the 19th century when Peking Opera won the hearts of courtesans of the decaying Qing Dynasty. The Empress Dowager was a famous fan.
In recent years, only a small group of aficionados, mostly intellectuals on the mainland and Taiwan, have kept the flickering Kunqu flame alight.
Zhang learned Kunqu in high school as part of his extracurricular activities, urged and encouraged by his parents. The love affair did not start immediately, and he initially attended classes merely to please his parents. It was not until he was in university that he started performing regularly for his fellow students and the passion was ignited.
"I was the first person to bring Kunqu to the university campus," he recalls. He was also the first person to stage an entire play of Kunqu Opera in English for a foreign audience.
After graduating in 2000, Zhang became a full-time contract actor at the government-funded Shanghai Kunqu Institution. He was later promoted to deputy director of the troupe.
Frequent stage performances gave him sufficient confidence to question the common belief that Kunqu could only survive on government subsidies. In September, he resigned from his cushy job to prove his point by forming his own troupe, Huayatang, or the Hall of Floral Elegance.
Since then, his troupe has performed in Taiwan a traditional play with contemporary lyrics by a Shanghai writer. Zhang says his performance received encouraging reviews by critics in Taiwan.
But his daring exploits in modernizing Kunqu has drawn the ire of purists on the mainland who criticized Zhang for being a crowd-pleaser by arbitrarily debasing the art.
"What he is doing right now is obviously not mainstream Kunqu. He's just selling the stunt," a Kunqu actor, who declined to give his name, says.
"I don't like his way of performing my favorite art with so many commercial elements. He is ruining the art," a fan posted in a popular Kunqu forum on www.douban.com.
But Zhang says he is just as keen as his critics in defending the purity of Kunqu from being adulterated by the attempts to sell more tickets. The lyrics may be new, he says, but he has painstakingly adhered to the authenticity of the performance. "We are traditionalists," he insists.
Any departure from tradition, he says, is in the marketing and promotion part of the shows. Instead of looking to the State for subsidies, "we are actively soliciting corporate and other sponsorships".
His major backers, so far, include Zendai Group, a Shanghai real estate developer, and Shanghai's Jingan district government, which provides him with premises in an historical building at subsidized rental. "We welcome corporate sponsorship," Zhang says.
When he was still at the institute, he accepted an invitation by a French liquor importer to stage a Kunqu performance for a sales promotion in Xintiandi, Shanghai's swanky entertainment district.
"Such commercial support has enabled us to promote the art to the public."
The survival of Kunqu cannot be assured unless the public is willing to pay to go to the theater, he adds.
"We used to play for free at universities," Zhang says. Now, "the universities pay us to perform there. At least, we have made some progress".
The debate may go on, but Zhang is not waiting around to hear the final verdict. For him, the passion to preserve Kunqu shouts louder than any dissenting views and he is sticking to his beliefs.
Zhang Jun stars in a Kunqu play.