ZHOUQU, Gansu - Yang Xiaohong's job isn't really a cushy one, not by any standards
Being a medical worker at the center for disease control and prevention in Zhangxian county, near mudslide-ravaged Zhouqu, Yang has to go wherever dead bodies are discovered.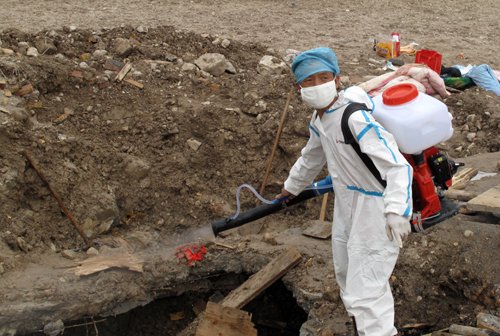 Medical worker Yang Xiaohong carries out the disinfection work in Zhouqu county on Aug 14
. [China Daily] 
"I am called and I have to go wherever dead bodies are found," said Yang, 40.
Arguably, he and his colleagues have witnessed the most number of dead bodies in Zhouqu, which was buried by a rain-triggered landslide on Aug 8. The disaster has claimed 1,287 lives, with 457 people still missing, according to statistics as of 4 pm on Wednesday.
Wearing a white protective suit and a blue mask, Yang's job is to spray the dead bodies with disinfectants. He has been doing it since 8 am on Aug 8, hours after the landslide blanketed the county.
Besides disinfecting the dead, Yang walks around with 25 liters of disinfectant on his back, spraying toilets and garbage dumps in the most affected area of Yueyuan village.
Yang said many medical teams had already withdrawn from the county since chances of finding more survivors were slim.
However, Yang, along with four other colleagues, must stay put in Zhouqu, as diseases threaten to break out.
"We need to keep spraying as dead bodies are still being dug out. There are still hundreds of people who haven't found their loved ones yet," Yang said.
He said he doesn't regret the job one bit.
"I am proud that I could join this meaningful mission at the most critical time and contribute in whatever way I can," he said.
Yang said he had disinfected nearly 90 bodies in a week after the disaster.
Though he has worked on corpses before as a medical student, this is his first time he has come face to face with a scene as "tragic and cruel".
"Many of the bodies are beyond recognition. Such was the strength of the landslide," he said.
"On the first day of the job, there were times I instinctively shut my eyes on seeing some bodies. It was haunting."
Being buried under tons of mud and rocks for so long in the rain, many bodies had gone rotten, he said.
Last Saturday, he saw maggots gush out of a corpse that was dug out from the debris. "We couldn't eat that day," he said.
And there are times when certain scenes move Yang to tears like last week, when rescuers dug out the bodies of a woman and her three children.
"The woman had tried to protect her children by putting her arms around them and turning her back to the approaching mudslide," he said, almost choking with emotions.
China Daily