ZHOUQU, Gansu - Liu Bin, a 19-year-old undergraduate student, was supposed to return to college on Aug 23 but cancelled the plan after the deadly Aug 8 landslide swallowed his family's home and cornfield.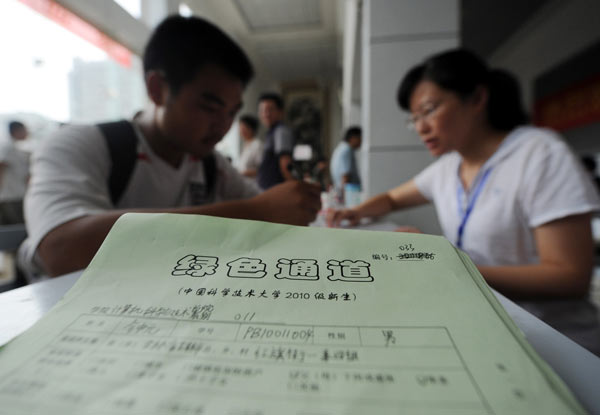 Gao Feng (left), a student, goes through "green channel" procedures as he reports to the University of Science and Technology of China in Anhui province on Sunday. [Liu Junxi / Xinhua]
"The cornfield was the only source of income for my family. Now that the cornfield is gone, it's taken away my dream of graduating from college," Liu, who is in his second year at the Tianshui Forestry School, told China Daily on Monday.
He landed a 20-day temporary job to repair houses in a nearby village during his summer vacation, but his employer perished in the mudslides.
Liu did not get his promised salary of 1,000 yuan ($147), which is a quarter of his tuition for this year.
"My relatives used to lend me some money for textbooks. But how can I ask them for help at this moment?"
He lost 11 relatives in the disaster, and rescuers only helped to find out three of their bodies.
Liu is only one of a large number of poor college students whose dreams of graduating have been shattered by natural disasters in China this year.
The number of impoverished students accounted for more than 23 percent of the total number of college students in the country, according to the Ministry of Education's 2009 data.
The number will keep increasing this year due to the drought in South China, the Yushu earthquake and Zhouqu mudslides, the ministry said.
The ministry has urged all the private and public colleges to collect information about the new students' economic situation, particularly those who belong to disaster-hit regions.
Eligible students may apply for tuition fee remission, interest-free loans, special subsidies and scholarship through the "green channel" provided by the universities, the ministry said.
China's central bank and banking regulatory commission have ordered the country's financial institutions to provide preferential loans to victims in the mudslide-hit regions of Gansu and Sichuan provinces.
The minimum down payment for a home in the disaster-affected urban regions could be reduced to 10 percent.
Meanwhile, school children in Zhouqu will begin classes on Aug 25, pushing back the usual start date by 10 days, according to local education bureau on Sunday.
Four schools were damaged in the landslide. Among them, only a cracked shell of a building remains of Chengguan No 1 Primary School - all of its classrooms and teaching facilities have been destroyed.