ZHOUQU, Gansu - To Wu Hechun, 59, one of the oldest volunteers in the landslide-devastated county, "help" is a lot more than just a nice word.
A native of Baoding, Hebei province, Wu has participated in rescue efforts in earthquake-hit Tangshan in 1976, Wenchuan in 2008 and Yushu in 2010.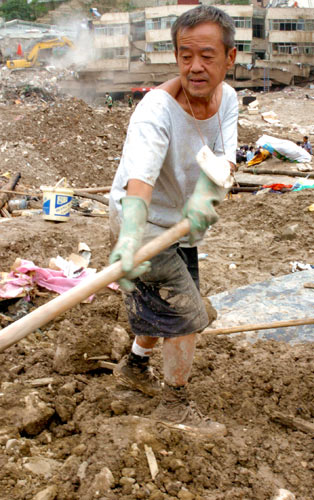 Wu Hechun, a 59-year-old volunteer, clears debris to find bodies in Zhouqu county on Saturday. [Wang Jing / China Daily]
And now, the frail, short, wrinkled man is back with a spade in his hand, trying, in whatever way he can, to help his fellow humans, who have been dwarfed by a natural catastrophe.
Related readings:


 Supply of daily necessities priority to Zhouqu


 Volunteer a big role in Zhouqu disaster relief


 Neighboring town lends helping hand to Zhouqu


 Routines of daily life returning to Zhouqu
Four square and upright Chinese characters - kang zhen jiu zai (rescue and relief amid earthquakes and disasters) - are tattooed on his tanned back.
"After the Yushu quake, I endured the pain to engrave the suffering of the victims into my memory forever," he told China Daily, as he cleared the debris along with a group of soldiers.
"The tattoo also serves as a sign of hope for the people in the affected region that help is all around. They are not alone."
Since Wu, who settled in Mianzhu city, Sichuan province, after helping with relief work following the Wenchuan quake, arrived in Zhouqu county, he has helped dig out four bodies despite suffering injuries on both his legs.
"I know my strength is limited. But I can help a bit. Any help is more help.
"There are times when other rescuers discover parts of the human body and can't go on digging. That's when I continue digging, for I have seen it all before," said Wu, who retired from a Baoding-based State-owned company that manufactures electronic appliances at the age of 50.
He said relatives of the victims were desperate to find their loved ones as soon as possible, "even their dead bodies".
"Every minute counts," he said.
Explaining his decision to become a volunteer, Wu said: "Volunteering means to devote strength, blood, money and materials at your own will, your own expenses, and of your own responsibility."
He said the most impressive rescue effort he had been a part of was the 1976 Tangshan quake in his province, when he dug out 130 bodies with his colleagues.
"At that time, no one knew what volunteering was all about."
Wu has brought with him a tool set to Zhouqu. He said that later this year he would repair television sets for the locals free of charge.