Editor's Note: China Daily sent seven reporters and photographers to Gansu after the landslide in Zhouqu county on Aug 8. The initial batch arrived just 19 hours after the tragedy and was among the first on the scene; a second group arrived three days later. Here, three of our journalists - Peng Yining, Hu Yongqi and Wang Huazhong recount their experiences in covering the disaster.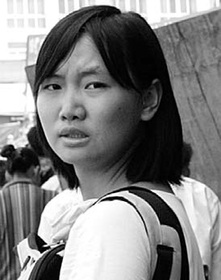 ZHOUQU, Gansu - I had never seen such devastation before I witnessed firsthand the horrific aftermath of the landslide in Zhouqu county.
As the rescue efforts were still in the early stages when I arrived as part of the first team of reporters, mud-covered corpses still laid scattered on the many piles of rubble: Men and women, many naked or half-naked.
Some of the bodies looked peaceful almost, like they had died painlessly in their sleep (the landslide struck at midnight). Others wore faces twisted in agony, their arms outstretched as though they were begging for help.
Two days later, the disaster zone was swamped by an almost-unbearable stench, a mixture of sweat, dust, disinfectant and rotting corpses. The stronger it was usually indicated how close you were to a body underfoot, be it a person killed by the deluge of mud or a cow crushed by a collapsed barn.
After my team was asked to return to Beijing on Aug 11, we traveled to Lanzhou, the Gansu provincial capital. But still we couldn't escape the feeling of being surrounded by death. I could still smell that rancid smell on my fingers, even though I'd never come close to touching a corpse.
Once we arrived at our four-star hotel 500 km from the disaster zone, I threw away every item of clothing I had worn over the previous four days, including my shoes. I fiercely scrubbed my hands again and again.
The strength of the landslide - how it tore up the streets, reduced buildings to rubble and blocked the river - still haunts me, yet one of things I remember most is the resilience of the Zhouqu residents.
Their will to survive is more powerful than any natural disaster.
Despite the disorder, each of them had found their own way to live through the horror, from those people who had lost everything to those who had nothing to lose.
RSpecial Coverage:


 Zhouqu Mudslide
Related readings:

China mourns for Zhouqu mudslide victims
Zhouqu in mourning
Businesses in mudslide-hit Zhouqu resume
Newborn baby brings hope to mudslide-hit Zhouqu
I spotted a short, elderly woman wandering around the refuge camp picking up plastic bottles. Her ragged clothes and matted gray hair suggested she had been earning a living from collecting waste for some time.
She said that since the disaster the entire county had become one large dumping ground, with the rubbish quickly piling up as soon as fresh supplies of water and instant noodles arrived.
Like before Aug 8, she hobbled along with a big bamboo basket on her back, only now instead of searching for garbage cans for recyclable trash, she could readily find what she's looking for everywhere. I wanted to ask some questions about her life but she didn't speak Mandarin. I switched to my native Chongqing dialect, which is closer to the local tongue, but conversation was still difficult. From the little I understood, I learned she had no family and that she was sleeping in the open when the landslide hit. Now she sleeps in a tent provided by the government, and receives free water and food.
Although she hasn't found anyone to sell her plastic bottles to, she believes there will be soon. She earns 0.1 yuan (about 1 US cent) per bottle.
There was also a ragged, happy-looking man strolling among the relief tents who smiled at everyone he passed but did not speak. A villager told me the man had been wandering aimlessly for years and joked that because everyone now looked destitute, he melts into the crowd.
Rising from the ruins
When I arrived in Zhouqu following the disaster, it was not just the county that looked to be in ruins but also the lives of its inhabitants. Initially, I couldn't find even a handful of people calm enough to listen to my questions, let alone answer them.
Days later, the panic in their eyes had faded to one of blank resignation. People began to talk, with some finding solace in sharing their stories.
Feng Qingqing, a mother who survived along with her 9-year-old son and 7-year-old daughter, said her heart was filled with joy, even though her home and all her family belongings had been destroyed.
"We're so lucky to be alive," she said, as her husband rushed home from his job in Lanzhou. "We lost everything but we can make a fresh start."
I also talked to Yang Jiangjie, 20, whose mother, father and grandfather were killed in the landslide. The first time I saw him, he was chatting with Premier Wen Jiabao, who was visiting victims at the county hospital. Yang's body was covered with large, red scratches.
After Wen left, I asked if I could interview him. Exhausted, he agreed and began weeping uncontrollably when I asked about his family.
The next day, I saw Yang again. He was lying with dozens of other injured survivors and, although slightly annoyed by a screaming baby lying nearby, was generally in good spirits and was happy to talk.
He told me he was the best student in his class and was preparing to take the national college entrance examination next year.
"The new term will begin on Aug 25. I think I can make it," he said, explaining that he may move to another city to live with his uncle.
Yang, like most other survivors, knows that although life may have been changed by the disaster, it is certainly not ruined.