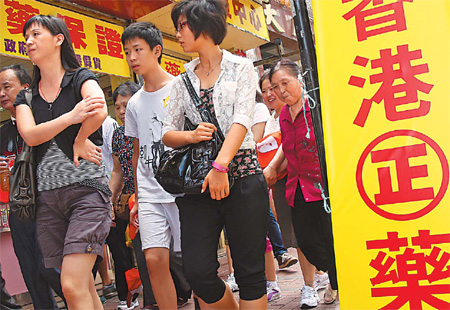 Mainland visitors walk along a bustling Hong Kong shopping area. The city is known as a shopping paradise among mainlanders and attracts multitudes of visitors both from home and abroad. Edmond Tang / China Daily
As viral Internet videos go, the footage of Hong Kong tour guide Li Hau-chun berating a group of meek visitors from the Chinese mainland for not spending enough at a jewelry store is relatively mild. There is no shouting, no fighting and no swearing.
Yet, analysts say the simple 7-minute video exposes the murky underside of the city's travel industry - one that sees low-budget tour groups sold like cattle by travel agents and visitors pressured by guides into overpaying for souvenirs.
"I don't owe you, it is you who owe me, but you pay me nothing back," Li says in one of the videos. One of the 24 tourists from Anhui province secretly filmed the outburst in mid-July.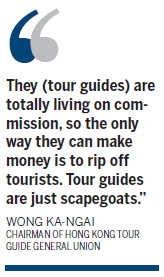 Li was reportedly angered by the fact that the group had spent only a combined HK$13,000 ($1,600) at a jewelry store.
"If you don't pay in this life, you will have to pay in the next," she adds.
The outrage that followed on the mainland was tangible, with the media and online forums awash with comments slamming travel companies running trips to China's famed "shopping paradise".
James Tien, chairman of the Hong Kong Tourism Board, issued a public apology, while the National Tourism Administration has also warned mainland firms over "forced shopping".
Li's rant is not the first time this year the practice has hit the headlines. In May, Chen Youming, a former national table tennis player from Hunan province, collapsed and died during a visit to Hong Kong after arguing with a tour guide over being forced to shop. An autopsy showed the 65-year-old suffered a fatal heart attack.
Much of the blame has been targeted at the low- and no-cost packages offered by some agents.
Research shows only 15 percent of mainland visitors pay for expensive, high-quality tours to the special administrative region (SAR), while the rest arrive on budget deals, according to the Hong Kong Tourism Board.
Companies that run low- and no-cost tours, however, rely on their clients' spending power to turn a profit, while the guides, who are poorly paid, are forced to survive on the commission they make on the tourists' purchases. This naturally results in pressure on tourists to shop.
Rita Lau, the SAR's secretary for commerce and economic development, described the issue as a "structural problem" that involves not only the entire industrial chain in Hong Kong but also the practice of "reselling" tourists by mainland agencies.
To find out more about how it works, China Daily talked to the sales manager of a travel agency in Shenzhen, Guangdong province, who would only be identified as Elaine.
"Mainland travel agencies are responsible for attracting customers and organizing groups," she explained. "After that, they don't give the groups to Hong Kong travel agencies directly but to wholesalers. The wholesalers then distribute the groups to different travel agencies in Hong Kong."
The travel agency Elaine works for is a wholesaler and "receives groups from all over the country", she continued. "Groups from areas that have strong purchasing power, such as Jiangsu or Shandong province, we pay for. (Those from) worse regions we charge. It works the same way when we resell the groups to travel agencies in Hong Kong."
Elaine argued that wholesalers ensure low prices for customers.
Holiday hell
In the pursuit of profit from selling tourists, poor farmers from the Chinese countryside who have no money to spend in Hong Kong are also being recruited onto shopping tours, said a retired city guide who refused to be identified.
"The problem starts on the mainland, although the vicious competition among Hong Kong agencies is also responsible," said the middle-aged man who now works for a group that protects the rights of tour guides. "They (agents) go to the fields to persuade people to put down their farming tools and go to Hong Kong. These people could never afford to come to Hong Kong if they didn't join a (no-cost) tour."