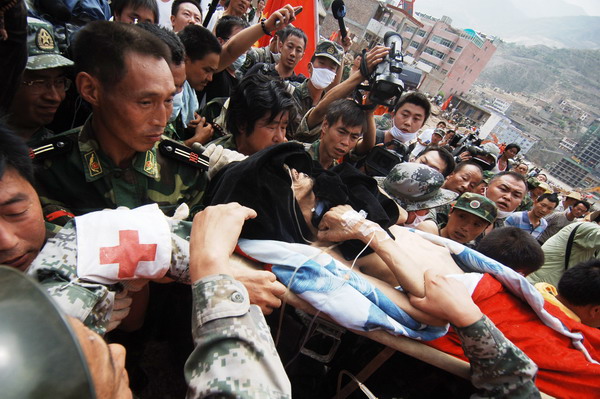 Rescuers save Liu Ma Shindan, 52, on Tuesday, 60 hours after he was trapped in an apartment building following the landslide in Zhouqu, Gansu province. [ZHANG HONGXING / XINHUA]
ZHOUQU, Gansu - Rescuers saved a 52-year-old man from the ruins of an apartment building on Tuesday morning, about 60 hours after the country's deadliest landslide killed at least 702 people and leveled this county in Gansu province.
A team of rescuers from neighboring Sichuan province lifted Liu Ma Shindan from the debris at 11:20 am, authorities said.
Related readings:

 Gov't ensures resettlement for people in Zhouqu


 Medical relief work in full swing in Zhouqu


 Vice Premier urges rescue efforts in Zhouqu


 Search and rescue work continues in Zhouqu
Liu's heart rate and blood pressure were normal and there were no apparent injuries, said Du Bin, a doctor from Beijing Union Hospital who was helping with the rescue work.
Healthcare workers gave Liu first aid at the site. A military helicopter was scheduled to take him to Lanzhou, the provincial capital, for medical treatment on Tuesday afternoon.
The number of people missing from the landslide stood at 1,042, according to figures released by the provincial civil affairs department on Tuesday afternoon.
Most of the missing are believed to be trapped in the rubble of their homes that were destroyed by the landslide that hit Zhouqu early on Sunday.
The country's top leaders on Tuesday called for greater efforts to save lives, although prospects of finding survivors were getting dimmer. Chances of survival for victims can drop significantly 72 hours after a disaster, rescue analysts have said.
Authorities must carry out effective operations, take more forceful measures and make the most of every second to save those trapped, members of the Standing Committee of the Communist Party of China Central Committee's Political Bureau said in a statement after a meeting. President Hu Jintao presided over the meeting.
Authorities should also guard against secondary geological hazards, transport people affected to safe areas and provide them with sufficient shelter, food, drinking water and medical services, it said.
More than 7,000 strained troops - mostly armed with shovels, hoes and rope - were battling through sludge and rubble round-the-clock to find survivors.
A number of rescuers said their simple tools were inadequate to carry out excavation work and heavy machinery could not be trucked in on the submerged roads.
Fan Yongheng, a soldier from the neighboring Ningxia Hui autonomous region, said his team was escorting 16 large machines including excavators and forklifts to Zhouqu. The rescuers left their base in Ningxia at 2 am on Monday and was still on the road on Tuesday evening.
"We got stuck near Minxian county, which is about 160 km away from Zhouqu. We cannot go further because of poor road conditions," he said.
Rescuers said mass mudslides like the ones that hit Zhouqu could be more deadly than earthquakes. The last person to be rescued alive from the ruins of the 8.0 magnitude Sichuan earthquake in May 2008 was freed after being trapped for 195 hours.
But very few would last so long after a landslide, rescuers said.