One month into their cycling journey to Tibet, Peng Linyun sees the trip as nothing but rewarding for Xiuxiu, his once sick nine-year-old son.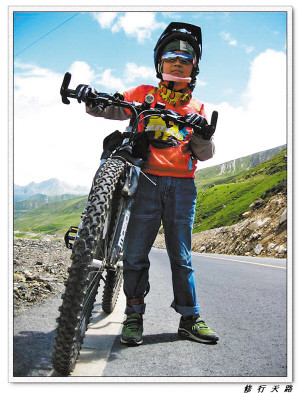 Xiuxiu is ready to go on with his cycling journey.  [Photo/cqcb.com]
Peng, a cycling amateur, was inspired by the idea of riding more than 2,000 kilometers in early July in the hope it would improve Xiuxiu's body and mind.
Starting in Chongqing, they began the trip along the Sichuan-Tibet highway on July 8 before reaching Zogang county in Qamdo prefecture on August 9. They hope to complete their journey by August 22.
Peng has kept a blog of his cycling journey detailing Xiuxiu's daily condition and how he encourages his sick son to continue despite illness, fatigue and bad weather.
The blog has become a hit sensation on the internet with hundreds of thousands of people offering their blessings and support.
Peng says he has seen positive changes in Xiuxiu's condition since starting the trip, but it remains unclear what was wrong with the nine-year-old before embarking on the epic ride.
"You can not imagine how often he asked for a rest at the beginning, you know, pressed by the altitude sickness. But now he is good to go even if we need to climb a 4,000-meter high mountain."
And in Xiuxiu's words, he would climb 5,000.