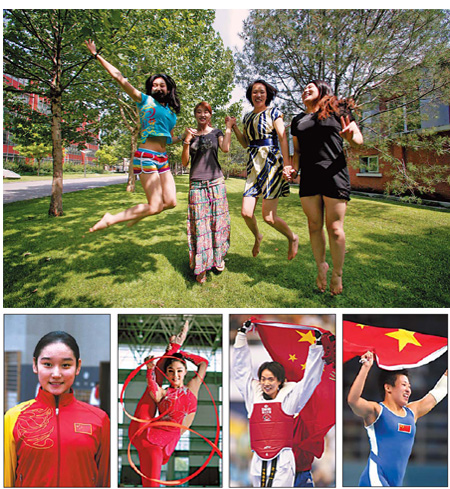 Before and after competition. From the left: Zhu Dan, a silver medalist in women's rhythmic gymnastics at the 2008 Beijing Games; Chou Tao, a former champion gymnast; Chen Zhong, women's taekwondo gold medalist at both the 2000 and 2004 Olympics, and Wang Xu, gold medalist in the women's 72-kg freestyle wrestling at the 2004 Athens Games. Yang Shen / for China Daily
Few stars can rise and fall as quickly as Chinese athletes. One moment they are heroes being cheered on by hordes of adoring fans, the next they can be forgotten has-beens struggling to earn a living.
Yet, the traditional culture of sportsmen and women being trained in body and not in mind is rapidly changing, with education now a top priority.
Beyond projects being run by some of the country's best universities to help up-and-comers, 13 retired champions - most of whom are still in their 20s - have now received scholarships to colleges in the United States and Britain.
The program, which is jointly sponsored by the Chinese government and foreign universities, is aimed at giving elite sportsmen and women a chance to nurture challenging and fruitful post-athletic careers, officials at Beijing Sports University said.
Four of the athletes will leave for Indiana University this month, while nine others began their studies at the University of Wisconsin-Madison in July.
Only world champions and Olympic medalists are eligible for the program and among the best known in the group are Chen Zhong, 27, who won gold in the women's taekwondo at both the 2000 and 2004 Olympics, and 24-year-old Wang Xu, gold medalist in the women's 72-kg freestyle wrestling at the 2004 Athens Games.
"This is a big step in providing further education and livelihood guarantees for the nation's elite athletes, who have been under the spotlight for their brilliant performances in competition," said Chi Jian, vice-president of Beijing Sports University and heads of the study program for former athletes.
Beijing Sports University and the University of Wisconsin-Madison jointly launched the initiative in March after several high-level exchanges between the two in 2008.
In addition to the foreign colleges waiving tuition fees, the China Scholarship Council also agreed to fund living expenses and travel costs for a total of 20 retired athletes studying abroad, including Li Na, the Olympic diving gold medalist, who in July joined an eight-month project at Britain's Leeds University. Former Chinese athletes studying in the US will also receive a monthly stipend of $1,100 from the council.
It is the first time in China's history so many former athletes have been sent to study abroad, said Chi.
"I believe our efforts will provide long-term guarantees for their career development after retirement," he said, "Although, since this is our first attempt at doing this, it is hard to say what effect it will have in the end."
The six-month non-degree course for the athletes at the University of Wisconsin-Madison will include courses in English, kinesiology and sports management.
However, with limited education backgrounds, some of the retired sports stars admit they could face difficulties abroad.
"The language may be the biggest obstacle for us, even though we've already had intensive English training for three months," Wang Bingyu, captain of the women's national curling team, said during her farewell party in Beijing on July 21. "There's still much more for us to catch up with."
As the only athlete in the Wisconsin group who still competes, the 26-year-old knows there will be extra pressure on her to maintain her rigorous training program while she studies.
"Despite the various difficulties, I'll try my best to find a balance," said Wang, who led her team to bronze at the 2010 Winter Olympics in Canada, as well as victory at the 2009 World Women's Curling Championships in South Korea.
"With the help of the professors, I may have the chance to train with local curling teams. I'm eager to learn from the confidence and aggressiveness of American players," she said.