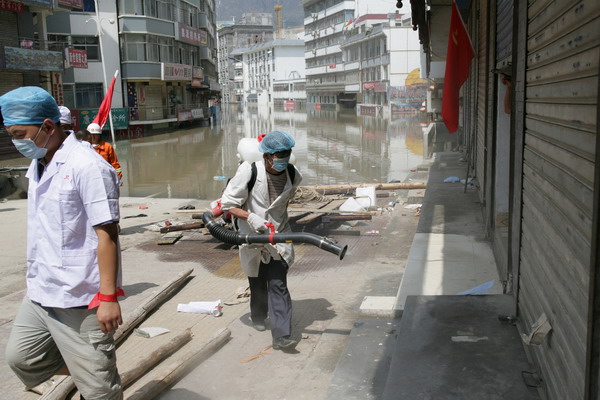 Medical staff carry out disinfection work in the mudslidestruck Zhouqu county on August 9, 2010.[DU LIANYI / CHINA DAILY]
ZHOUQU, Gansu - The avalanche of mud, dirt and debris that engulfed the city of Zhouqu on Saturday also buried its survivors in an inescapable sorrow.
In the pre-dawn hours, a clutch of survivors huddled besides what little remained of their homes, wailing relentlessly over the fates of their children, parents, brothers and sisters.
Related readings:


 Devastating landslide in Zhouqu


 Frantic search for signs of life after landslide


 Landslide claims 127 in NW China's Gansu


 Japan ready to offer help to landslide-hit China
Pants rolled up, we stepped gingerly out of our cross-country vehicle, which served as an ad-hoc shelter, and onto an equally makeshift floating bridge of planks and branches, toward cries that grew louder and more agonizing with each and every step.
The tragedy struck when mudslides ripped through the streets and homes in Zhouqu county, carrying with them countless rocks - many the size of soccer balls.
The deadly onslaught leveled an entire residential district in the downtown area, leaving in its wake a wasteland with many houses cut in two.
About half of the houses were flattened completely, while the others - after being covered during the onslaught - were practically skeletal.
Sitting atop the relics, survivors sobbed uncontrollably in front of reporters as well as the soldiers and villagers who came to their rescue.
Calling out the names of their beloved ones, they spoke tearfully to the heavens, and to Buddha.
Their religious hopes were honored by a group of Tibetan elders who performed a traditional folk song to pray for the safety of family members.
But after their voices turned hoarse, after a time, only sharp cries would emerge from their chests.
To forestall any other immediate geological disasters, local officials also detonated an explosion under a nearby earthquake prone lake, making a thunderous noise.
All along, men squatted down among weeping women, smoking in silence as tears streamed down their faces. Synchronized shouts, meanwhile, drew eyes in the direction of police in the seconds before they pulled up collapsed walls and beams before shoveling out sludge.
At one point, the sign of a body was discovered whereupon the officers quickly did away with their shovels, and scrambled to dig with their bare hands. Gradually, the shape of bodies emerged as fingers scraped into the dark soil. Some police remained in remarkably still postures while they concentrated, digging frantically and calling for help.
Soon, four bodies were uncovered, shrouded in sheets, and placed beside the ruins. Medical workers cleaned and disinfected the bodies while the sheets began turning red. The cries of survivors were so heartbreaking that we, too, were on the verge of our own tears during interviews.
We staggered among sludge and rocks to the starting point of the mudslide, with streams of the floods still flowing down along the way.
Some survivors, including a group of young women in their early twenties, heaved planks on the floodwaters to ensure access for rescue personnel. Soldiers, medical workers and reporters crowded on the desolated mud flat, meanwhile, busy with their own jobs.
An elderly woman could also be seen collecting children's textbooks and notebooks buried under rocks with a bed sheet, while we stepped through mountains of rubble - the same rubble that buried pieces of furniture, cars and people.
Working 24 hours without a break, of course, is never easy. But being surrounded by such a heavy degree of pain and suffering added to the toll in the worst way.
After collapsing into our vehicle for a welcome rest, we returned to our hotel. Deadline was nearing, and all we could hope for was electricity and Internet access.