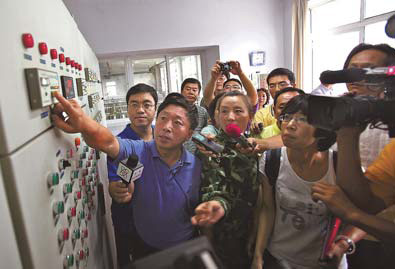 The mayor of Tonghua presses the button to restart the city's water supply at a treatment plant in the suburbs on Aug 4. Zhang Tao / China Daily
However, as the link can supply a maximum of just 7 tons of tap water a day, compared to the city's need for 10 tons, the water supply was only partially resumed the next day.
To cover the shortage, the government has built another temporary pipe, which was scheduled to be in use on Monday.
The four pipelines that burst were all built 25 years ago beneath the bridge. Officials said that construction of permanent water lines would start as soon as the flood season finishes and will take three months to complete.
Meanwhile, lines of people waiting to collect water being pumped from underground sources by the fire service have become a common sight. The water has been available at 25 locations across 22 communities from 5 am until 9 pm since Aug 2.
"I tell every resident who comes to collect water that it is not drinkable," said firefighter Xiao Yang as he filled kettles and buckets. "The underground water has not been disinfected."
Harsh lessons
Small businesses and hospitals were the worst affected by the shortage. Car washes and bathhouses were told to close down by the authorities to save on water, while small restaurants were also shut because they could not afford to cook and wash up with expensive bottled water.
"We have to rely solely on bottled water to perform all disinfections," said Wang Li, a nurse at Tonghua People's Hospital, as she poured water onto a doctor's hands before surgery.
However, although living without running water may be difficult, it has failed to defeat the resilient residents of Tonghua, many of whom reverted to water-saving techniques to cope with the shortage.
"It is a serious reminder of all we take for granted," said Bai thoughtfully, whose family took to using paper plates and plastic cutlery to save on washing up.
"We had to manually fill the toilet whenever it needs flushing," he said, recalling how he had to carry heavy buckets of water up to his home on the fifth floor. "It really wasn't fun."
The situation has also raised residents' awareness of water conservation. Many said they have started to keep water-filled plastic bottles in their toilet cisterns to limit the amount of water they use every time they flush.
For most people, the restored supply means life has already returned to normal. Yet, some see the inconvenience they experienced during the four-day drought as a precious lesson.
"The point is that we can survive without running water," said Zhang Hua, a retired teacher in his 60s. "But it is time like this when you realize how precious water is.
"Maybe some people will think twice before they let the water run as they brush your teeth, listening to the drain gurgle as all that clean water washes away," he said.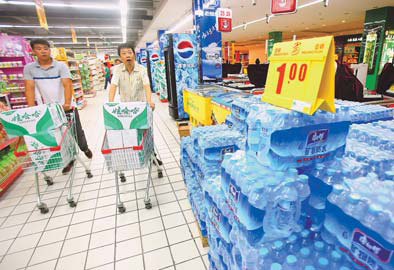 People shop for bottled water at a supermarket in Tonghua after the city's water supply was damaged by heavy floods. Zhang Tao / China Daily
More cover stories