The first China-made amphibious plane, coded Seagull 300, starts its test flight on Thursday, Xinhua News Agency reported.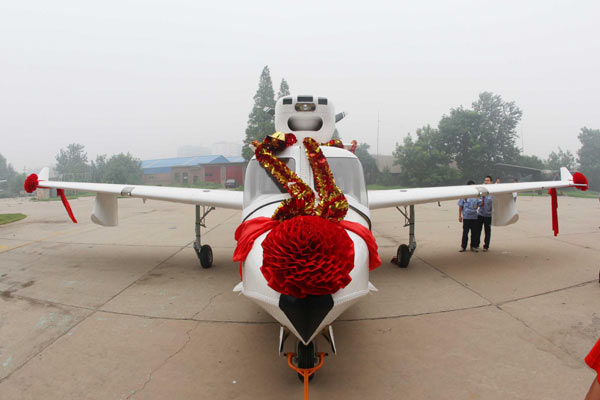 The first China-made amphibious plane is on display after it left the assembly line in Shijiazhuang, North China's Hebei province, August 4, 2010. [Photo/Xinhua]
The plane, made by the Shijiazhuang Aircraft Industry Co Ltd in Hebei province, is designed for the private flying market. It can take off from and land on a 600-meter long and 50-meter wide runway either on the land or on the water.
Related readings:


 China's rich fly high in 200 jets despite ban

 Low-altitude airspace flights ready to take off


 China to see more A380 flights this year
"The Seagull 300 is the first amphibious plane of China that has independent intellectual property rights," said Xiong Xianpeng, who is in charge of the plane's design.
The four-to-six-passenger plane costs more than 4 million yuan ($600,000) and can be used for business, passenger, cargo, medical aid or sightseeing flights.
"We already have more than 50 orders of intent," said Xia Zhongmin, vice president of Shijiazhuang Aircraft Industry Co Ltd. "A Hangzhou-based company has been in touch with us since we started our research and development, and they are expected to confirm their order once the trial flight succeeds," Xia added.
The plane is expected to start its official flight later this month and will take part in an air show in November in Zhuhai, South China's Guangdong province.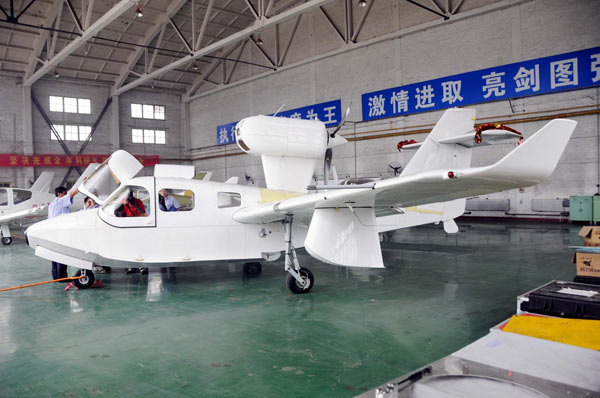 People visit an amphibious plane which has just left the assembly line in Shijiazhuang, North China's Hebei province, August 4, 2010. [Photo/Xinhua]