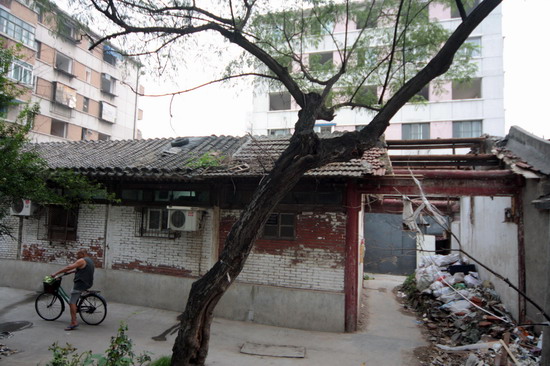 A photo taken on Jul 21 shows a part of the former residence of the late Liang Sicheng and his wife Lin Huiyin, both distinguished architecture experts, has been demolished. [WU CHANGQING / FOR CHINA DAILY]
BEIJING - China's top cultural heritage administrator has condemned the massive reconstruction of old cities across the country as a "disaster" for the protection of historical cultural relics.
"Bulldozers have razed many historical blocks," lamented Shan Jixiang, head of the State Administration of Cultural Heritage (SACH) in an online speech on Monday.
Related readings:


 UNESCO hails China's efforts in protecting world's heritage


 Danxia landform recognized as world natural heritage


 China spends millions preserving Tibetan heritage sites


 'Improvement' should not come at the expense of valued heritage
"Much traditional architecture that could have been passed down for generations as the most valuable memories of a city," he said, "has been relentlessly torn down."
Shan said that many Chinese cities are heading in the wrong direction by massively demolishing architectural gems even as urbanization is causing development problems in urban and rural areas alike.
Official figures underscore Shan's assertion. The most recent data issued by the Ministry of Housing and Urban-Rural Development indicates that China has built 2 billion square meters of new houses every year -- consuming 40 percent of the world's building materials.
"The protection of cultural heritage in China has entered the most difficult, grave and critical period," Shan warned.
No official statistics exist as to the number of potential cultural heritage sites destroyed in demolition across the country.
But an official surnamed Peng with the SACH said the number of immovable relics, such as buildings and gardens, have been decreasing sharply since the 1980s, when an extensive urbanization campaign began nationwide.
In Beijing, for instance, 4.43 million meters of old courtyards have been demolished since 1990, covering some 40 percent of Beijing's old downtown area.
Even Nanluoguxiang, a once flourishing commercial street during the Yuan Dynasty (1206-1368), has not escaped the fate of urban erosion.
The statistics paint a stark picture. In the 1950s, Beijing was home to 7,000 hutongs. But by the 1980s, their numbers had shrunk to 3,900, and they have been vanishing at annual rate of 600 ever since, according to a report by the China Architecture News.
In a similar vein, the Dali municipal government of southwest China's Yunnan province destroyed a segment of a 1,300-year-old city wall to make place for a new expressway this May.
The administrator said he is strongly opposed to the notions of "revamping old city" and "revamping old and endangered housing" in urban development.
Such development, he added, often comes at the expense of architecture that dates back "hundreds even thousands of years".
Shan said some small- and medium-sized Chinese cities have been blindly transforming their urban landscapes in favor of high-rises and skyscrapers as futuristic symbols of urbanization and modernization.
But this push has rendered all too many cityscapes "rigid, superficial and dull", he said.
Shan also criticized the wasted of resources caused by the short-lived nature of many buildings in China.
The average lifespan of a Chinese building is 30 years, as opposed to 132 years in Britain and 74 years in the United States, according to statistics.
"Many buildings have been demolished while still remaining useful," he added, blaming the situation on a lack of vision by urban administrators. "And that is a disaster for both the environment and resources."