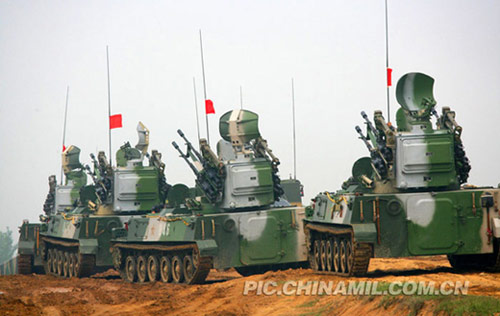 PGZ95 self-propelled anti-aircraft artillery system, file photo. [Photo/pic.chinamil.com.cn]
The People's Liberation Army (PLA) begins a five-day air defense drill in east and central China from August 3 to 7, said Xinhua news agency, following a large-scale military supply drill in the Yellow Sea last month.
Related readings:


 PLA holds drill before anniversary


 Local residents of Qingdao witnessed air drill


 China holds 1st helicopter rescue drill on highway

 PLA holds Yellow Sea drill
Some 12,000 members of the PLA air defense force from eastern Shandong province and central Henan province will take part in the drill codenamed "Vanguard 2010," Xinhua reported.
As an important part of the military region's annual joint exercise, the drill will be conducted around the clock for the duration of the drill under an electromagnetic environment.
Air scouts, fighter jets and helicopters will also be deployed to the two provinces, according to Xinhua.