KUNMING - In the past six years, Li Fengqiang has traveled to more than 16 provinces in China, covering a total distance of more than 30,000 km. And he did it all by himself.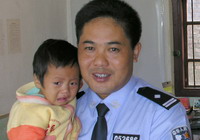 A file photograph shows Li Fengqiang with a Va ethnic boy. [Provided to China Daily] 
Li is neither an enthusiastic traveler nor a lonely wanderer. He is a policeman from Cangyuan county in Southwest China's Yunnan province.
His mission is simple, but often fraught with difficulties and danger. He has to save people, mostly women and children, who are victims of human trafficking.
Since 2004, when he took the job in the criminal investigation office of Cangyuan county police bureau, the 40-year-old Li has rescued more than 90 people, 25 of whom are natives of Myanmar.
"An important part of what my unit does is to combat human trafficking and rescue victims," said Li, who belongs to the Va ethnic group that mostly inhabits the area bordering China and Myanmar.
"After my first rescue operation in Shandong province, I felt shocked and sad at learning what the women had gone through. The separation from their families, the fear of their traffickers and the physical torture they suffered each time they tried to escape," the soft-spoken cop told China Daily.
"I felt worse when I thought of all those women who were still in the hands of their captors."
Related readings:


 Chinese woman gets death for child trafficking


 Parents of missing teenagers win in new trafficking law


 Police use DNA against human trafficking


 Police detain 8 over children trafficking
Li has since committed to rescuing as many victims of human trafficking as possible as long as he is still physically able.
Local police estimate that up to 20 people in and around the underdeveloped Cangyuan county are possibly abducted and sold in other provinces every year. Most of the time, the bait is a promise of job opportunities in bigger cities.
"Most of the victims are from rural areas and have received little or no education," Li said.
Moreover, as the gender gap increases, resulting in 24 million more marriage-eligible men than women over the next decade, it will possibly aggravate the already deeply entrenched practice of buying wives and children in some rural areas.
Due to financial restraints, local police cannot afford to deploy more policemen to rescue victims of human trafficking.
Li has always been alone in the mission. In his most recent rescue effort, Li saved two young girls, who are natives of Myanmar and belong to his ethnic group.
On April 12, Li received a call from a woman from Myanmar, who said her daughter had gone to Cangyuan county in search of work and hadn't contacted her for a month until a few days ago.
"The girl told her mother that since she could not understand written Chinese she did not know where exactly she was being kept," Li said.
When the girl phoned again, Li managed to trace the call to a small town in Qiyang county of Hunan province. He immediately contacted the local police and got hold of the girl on the phone.
"The girl told me that there was another girl shut off in a small house not far from hers. They had tried to escape, but failed."
Without any hesitation, Li took the next bus to Kunming, capital of Yunnan province, an overnight train to the city nearest to Qiyang county in Hunan and then a taxi to the county's police bureau.
Li soon located the two girls with assistance from the local police. Just as Li was ready to leave with the girls, half a dozen people, who had bought the girls, arrived at the police station.
"They demanded we refund their money - 26,000 yuan - which they paid to buy the girls, else they wouldn't let us leave," said Li.
At that time, there were only three policemen, including Li, at the police station. "The two local policemen confronted the crowd, while I slipped out of the backdoor with the girls," he said.
Li even put on two big hats on the girls' heads in a bid to hide their eyes and hair till they got on the train.
"Even after the train started moving, I was worried the girls' buyers might come looking for them," Li said.
"After all, a lot of the rescue operations like these take place outside Yunnan. Accidents or even fights can easily break out," Li explained. "To some extent, I am lucky I don't look like the typical Va ethnic people, who look more Burmese than Chinese. I can easily pass off as a Han Chinese."
But he is not always so fortunate. During another rescue operation, also in a village in Hunan province, Li had to withstand six hours of verbal and physical abuse from the victim's buyers before police reinforcements arrived.
"I held on to the girl all the while," Li said. "Had I let go of her, it would be extremely difficult to rescue her again.
"I would be lying if I say I wasn't frightened during fights like this one," he said. "But when I meet the imploring eyes of the victims and their families and see their joyful tears when they reunite, I know what I do is right and worth it."
Li said he has his family to thank - especially his 37-year-old supportive wife who has been taking care of their daughters and parents while he is away on rescue missions.
"My elder daughter is in high school now, an aspiring journalist," he said. "And the little one will go to middle school this year. She loves dancing. She even took part in a national dancing competition for primary school students last year.
"I have a sweet and happy family and two lovely daughters," Li continued. "I hope everyone could be the same."