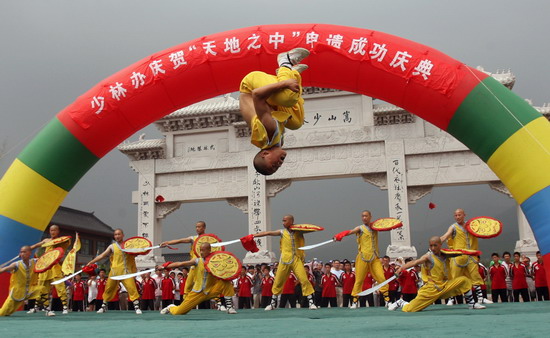 Martial arts performers celebrate the Shaolin Temple becoming part of a world heritage site on August 1, 2010. [ZHANG HONGFEI / FOR CHINA DAILY]
DENGFENG, Henan - The home of Chinese kungfu and Zen Buddhism, China's Shaolin Temple is now part of humanity's cultural heritage.
Nestled in the Mount Songshan of Central China's Henan province, the historic architectural complex including the Shaolin Temple was added on Sunday to the UNESCO World Heritage List during a meeting of the World Heritage Committee in Brasilia, Brazil.
Related readings:

 Shaolin play spotlights martial arts at Expo


 Shaolin Martial Arts Show


 Shaolin monk demonstrates water 'flight'


 Shaolin Temple's bid to build hospital approved
The new addition pushed China's world heritage sites to 39, including 28 cultural heritage sites, seven natural heritage sites and four cultural and natural heritage sites.
UNESCO said the historical architecture complex stands out for its great aesthetic beauty and its profound cultural connotations.
The complex is composed of 11 traditional structures, including the Shaolin Temple, the Observatory, Songyang Academy, Taishi Towers and Zhongyue Temple.
With a history of more than 2,000 years, these monuments feature various architectural styles brimming with ancient Chinese culture.
They provide the world with a glimpse into ancient Chinese religion, philosophy, customs and scientific development, said Yang Huancheng, an expert of ancient architecture.
Shaolin Temple's abbot Shi Yongxin said the UNESCO decision is a privilege, but it also adds pressure.
"For the monks, living in a world-recognized heritage site is a wonderful experience, but at the same time, our responsibility to protect the temple becomes even graver," he said.
Shi, however, said admission prices will not rise, and the temple would try to provide better service for domestic and foreign visitors.
Shi said a higher profile for the Shaolin Temple will heighten the public's awareness to protect the temple.
"I'm also looking forward to the addition of Shaolin kungfu into UNESCO's intangible heritage list," Shi added.
Local officials said they are getting prepared for more tourists from home and abroad.
"We've begun to organize tour guides learning to give introductions in English about the world heritage site, considering the increasing number of foreign visitors," Zhu Jianping, a senior official of Dengfeng tourist bureau, told China Daily on Sunday.
Zeng Jianshu, a local resident, said as more tourists come, his business will undoubtedly benefit, too.
Though many people hailed the news, there were also frowns with some expressing doubts about the benefits to the area.
One netizen surnamed Mu said the arrival of more tourists might lead to an over-commercialization of the site.
"Too many tourists will destroy the tranquility and the sublime beauty of the religious constructions," Mu said.
Xinhua contributed to this story.