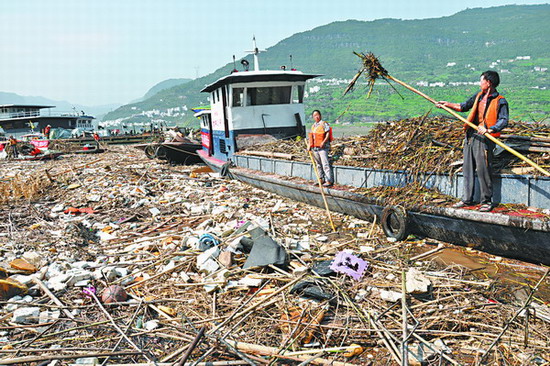 Workers clean floating garbage from the Yangtze River in Yunyang county, Chongqing municipality, on July 27. [LIU XINGMIN / FOR CHINA DAILY]
BEIJING - Thick layers of garbage from continuous rain-triggered floods along the Yangtze River are threatening the safety of the Three Gorges Dam, a senior official has said.
"The large amount of waste in the dam area could jam the miter gate of the Three Gorges Dam," Chen Lei, director of the key water project department under the China Three Gorges Corporation, told China Daily in an exclusive interview.
Related readings:


 Ship lock services halt at Three Gorges Dam for safety of dam


 Three Gorges Dam stands test of another peak flood


 Water levels of Three Gorges Dam reaches new highs


 Uncontrolled boats flow down, threatening dam
Although the amount of garbage in the river has been decreasing in recent years, current downpours in the upstream region have brought unusually high amounts of floating waste - including tree branches, plastic bottles and other domestic garbage - into the Yangtze River, Chen said.
"Such a large amount of debris could damage the propellers and bottoms of passing boats," he said. "The decaying garbage could also harm the scenery and the water quality."
A layer of garbage about 60 cm thick covering an area of more than 50,000 square meters began to form in front of the dam when the rainy season started in early July, the Hubei Daily reported.
In some regions, these layers of garbage are so thick people can walk on them, the paper reported.
Nearly 3,000 tons of garbage are now being collected from the dam every day, Chen said. But inadequate manpower and equipment are hampering the cleanup, he said.
In the Chongqing section of the Three Gorges, about a dozen mechanized boats are hauling the waste, but only one such boat is reportedly helping with the cleanup in the Hubei province section and people are doing most of the work by fishing out the garbage with tools.
Loading and transporting the debris are also slow because there are no docks designated for processing the trash, officials said. Most of the garbage is buried.
More than 150 million people live near the dam and its upper stream. But a number of cities remain unequipped with garbage disposal equipment. Residents dump their household garbage directly into the river and the practice affects dam safety in the rainy season, officials said.
About 150,000 to 200,000 cubic meters of floating waste is collected from the dam region every year. The figure was 160,000 cubic meters last year, Chen said.
The China Three Gorges Corporation spends about 10 million yuan ($1.48 million) each year to clear the floating waste. The cost for disposing the waste is expected to hit 3 million yuan this year, he said.