BEIJING - In his green uniform and with suntanned skin, Senior Colonel Geng Yansheng, the new spokesman for the Chinese military, looks like a traditional Chinese military officer - but what he is doing could thoroughly modernize the way the Chinese military communicates with the world.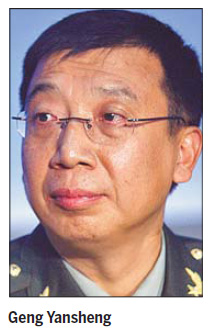 "We're pushing forward a regular press conference system at the Ministry of National Defense (MND) to inform (the world) of important information and respond to concerns from the international community," said Geng, who made his debut on the eve of Sunday's 83rd anniversary of the establishment of the People's Liberation Army.
Geng did not reveal the start date for the regular press briefings, nor did he say how frequent they will be. He said those details are still being discussed.
But for the task ahead, he looks to be the perfect candidate.
Born in Shanxi province in 1960, the director of the MND's Information Office has spent half of his 33 years of service in the army at the ministry's foreign affairs department.
A Chinese online encyclopedia shows he has visited many countries and was involved in a slew of major military exercises between China and other countries.
Related readings:


 Sovereign waters are not in question


 China gets WTO backing in chicken import row with US


 China builds cold chain standards with US help

 WTO backs China in US chicken import row


 US involvement only complicates South China Sea issue
And Yang Yujun, Geng's colleague and the other newly appointed MND spokesman, also has international experience.
A resume the ministry provided to media organizations said Yang was not educated in a military college but at the China Foreign Affairs University, the cradle of the nation's diplomats.
With a master's degree in public policy from the University of London, Yang suggested the military set up a spokesman system a decade ago.
Geng said his team has been extremely busy since their designation in April.
"Our brains cannot rest, we are prepared to handle breaking news every minute. Most of my colleagues stay in office reading materials during their spare time."
Geng said his predecessors, the first two MND spokesmen, have laid a solid foundation for them.
The debut of Hu Changming and Huang Xueping in May 2008 grabbed the world's attention and signaled a major change in the Chinese military.
In the summer of 2009, a bilingual MND website - in Chinese and English - was launched. The response of the spokesmen to major events were released there.
"It was most difficult at the start they've built the stand for us," Geng said of his predecessors.
Hu and Huang have been transferred to other positions following their contributions, leaving reporters who worked with them with a good impression.
Reporters who met them often referred to Hu as "always smiling" and Huang as "open-minded".
"I have asked the two former spokesmen for suggestions on today's press conference such as how to have the reporters better recognize me," Geng said.
It will take time to gradually open the Chinese military, which was once blocked from the world "due to immature and incorrect understanding", he said. "We're thinking about it every minute."